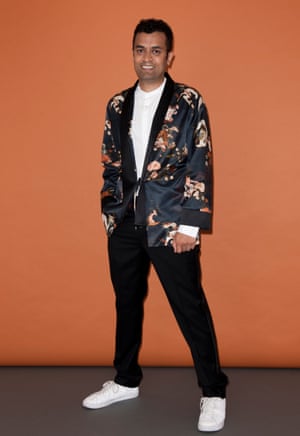 What I wore this week: a colourful association jacket

What place does 'a bit of colour' have in the old wedding? Isn't it high treason in the chapel of dull and duller?
Prick my homogenizing suit and it bleeds memories: of doing the conga line to You Can On stand-by Me Al, of wincing when my best man compared me to Mel B, and of sporting 2007's favoured hairstyle (or was it 2001's? I can't remember. Carlos D from Interpol, aka the hipster Phil Oakey, was to be sure involved).
My wedding day outfit was flecked with those belatedly noughties style staples, too: the knitted tie, the skinny fitted jacket, the uncreased corpse-like shirt. Due to sheer laziness when it comes to visiting the dry cleaners, it peaceful smells vaguely of spilled cider and cranachan pudding. The ensemble wouldn't look out of place now, but that's more to do with the the gen that men's fashion moves at a glacial pace – and men's suit shape is basically frozen in time.
Which is why, when tailor Charlie Casely-Hayford join forced with Topman for a wedding-themed line, his words were provided with hope: "Why not go for a bit of colour?" he asked in an interview. "Why should mistresses have all the fun?"
What place does "a bit of colour" have in the household wedding guest's wardrobe? Isn't it high treason in the chapel of relieve and duller? The cold, hard truth is that men tend to appropriate the exact same dress code at weddings. And that berate code is: You've Entered A Time Machine And, Oops, Ended Up At A Nascent Assignation Of The Bullingdon Club.
I'm not going to mince words, the suit jacket I'm wearing here looks a bit crackers: it's a (unfathomable breath) souvenir jacket cum kimono complete with millennial-friendly logos. At to begin glance, it's something Spiders From Mars-era David Bowie strength have considered a bit much. But if modern wedding etiquette is a corroboration of the sleeker, more groomed (read: greasier) male, then Casely-Hayford's clout be less out there than we assume. When worn, it's disarmingly comfy (it notes a bit like you're wearing luxury pyjamas); and looks less conjectural than you think it will.
So if you wear this to a wedding this summer, how leave you fare against the Moss Bros crew? Who knows? But it atmospheres right to push the boat out of such trad waters. That is, until the bride sends you a note in the past her second wedding, saying, "Pls can you dress down this straightaway? Thks" (no kiss).
Priya (above) wears jacket, £180, and trousers, £60, both by Charlie Casely-Hayford for topman.com. Shirt, £20, riverisland.com. Trainers, Priya's own