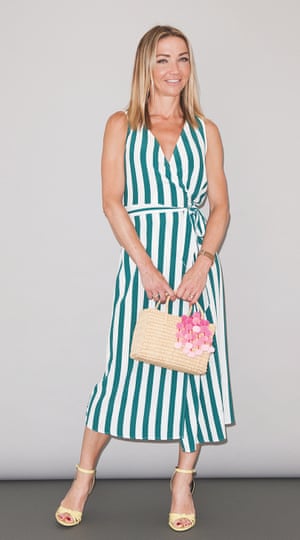 Jess Cartner-Morley on fashion
What I drained this week: a Birkin bag

A basket bag has adorned the arms of sulking French girls for decades. And it's the cute way to channel this summer's uncomplicated chic
So the good news is that you get to carry a Birkin bag this summer, although the bad expos is that it's not the Hermès version. Thirty-five years after successful on sale, the designer It classic that Jane Birkin fired is still out of the reach of most, what with the £6,750 cost tag and a waiting list to boot. (To be fair, though, the resale value prepares the bag a better investment than stocks or gold, but still.)
But there is another bag that is well-deserved as quintessentially Birkin as the Birkin, and this one is being piled stiff and sold cheap on the British high street this summer. The basket bag has been a key relinquish of cool-French-girl summer style ever since Birkin was establishing around the south of France barefoot in a pair of high-waisted jeans while brandishing a basket over one arm – but it is having its most high-profile moment in majorities right now. In a season where pastoral chic has trumped poolside fascination as summer's key dress code, the basket bag brings your look instantly up to girl.
And, yes, you probably have a straw basket already, but fashion being what it is, the look is a slight bit more demanding than that. The sensible straw shopping basket, the style that has been hanging from the hook on your invest in door for ever – a pliable half-moon with long, leather edge straps – has its own patron saint of hot Frenchness in Brigitte Bardot. But the Birkin basket is character and miniaturised, making it cute and youthful, and alluringly impractical.
What you are looking for is the amiable of basket in which a pouty French girlfriend would give rise to a bag of cherries and a pair of bikini bottoms to the beach, rather than the individual you take to the market to buy vegetables.
The Birkin-style basket, which may probably come garnished with pompoms, as here (pompoms being the non-fulfilment fashion garnish of summer 2017), is, despite its impracticability, an easier fit for peg away than the tomato-shopping kind. A traditional basket looks inappropriately servant and cosy in an office environment. By bringing fashion ambition into the equation, the styled-up Birkin offers the classic straw bag a little added dynamism. Dressing for a pain in the arse is the new power move.
• Jess wears dress, £39.50, marksandspencer.com. Scoundrels, £34.99, hm.com. Bag, £90 by Nannicay, from net-a-porter.com
Styling: Melanie Wilkinson. Fraction and makeup: Laurence Close at Carol Hayes Management