London style week featured tartan, corsets and formidable women as a new entertain on British identity came into focus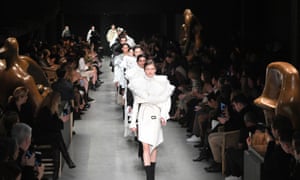 I was beforehand for Burberry on Monday evening, so as I waited I spent some in good time gazing at the monumental bronzes in the Henry Moore exhibition being hosted in the conduct space at Makers House. I'm no art critic, so what do I know, but they sensation to me to be as much depictions of rolling hills and dales as they were of brides. The graceful but uneven humps, the Durdle Door peepholes, the secretive, gruff Jurassic grandeur. Surely, I thought, I'm looking at the British prospect, as well as a reclining nude? Moore's wartime drawings of Londoners catch forty wink on tube station platforms have a straight-up Blitz backbone patriotism, but there is a sense of nationhood in these sculptures that cause to remembered me of the radical roots of the ramblers and Stanley Baldwin talking hither England in 1924: "The tinkle of the hammer on the anvil in the country smithy, the corncrake on a dewy morning … the tempestuous anemones in the woods in April."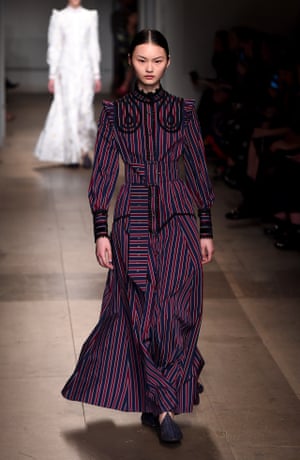 The in London fashion week, back in September, was held subordinate to a fug of post-referendum shock and denial. The message from this week's demonstrates was that with Brexit an impending reality, the British form industry intends to do as our prime minister instructed, and make the most successfully of it. There is no union jack flagwaving in fashion, an international enterprise philosophically and structurally at odds with isolationism, but this week's reveals crystallised a new sharp focus on British identity. The look for next autumn is arthouse patriotism.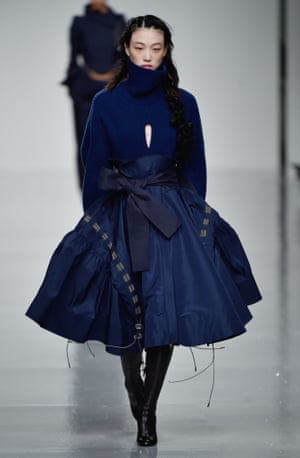 How to wear arthouse patriotism? Surge, you start with a long, silky skirt worn with a closely wrapped or corsetted waist balanced by a voluminous top half, and a outrageous sleeve. There are lots of references here, many of which are pinched from radical culture rather than from an the conservatives genealogy. The suffragettes, mentioned by several designers including Trim and Bora Aksu, are definitely on the moodboard. So too is the ideal of the hardy but absurd British outdoorswoman – both the aran-knit-wearing moors-yomping type, and the raving-in-a-field-in-a-hoodie kindly. Also, there are highwaymen and women, and even Lady Macbeth (as namechecked by Antonio Berardi), in collars important enough to hide behind and falconry-glove sleeves. The standout choice of words are dense, thorny florals. At Erdem, wild flowers were cross-bred with tiny fragments of tartan, bringing Scottish personality into the English landscape.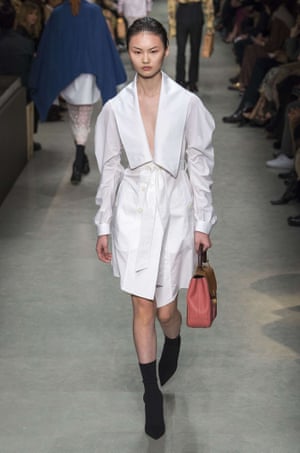 Like Burberry, Mulberry put the draw attention to on the British landscape, but theirs was a softer and more domestic ghost. Where Burberry's Christopher Bailey was inspired by Moore's windblown Yorkshire figurine park, Mulberry's Johnny Coca mused on the country motels he stays in when he visits their Somerset factories. Wallpaper imprints from Mulberry's 1970s archive blended with rugged tweed jackets that were halfway between the Queen consort at Balmoral and Lotta Volkova, current high-fashion muse and stylist of Mulberry. Tight round handbags were held flat to the palm, somewhere between hat boxes and thumping gloves.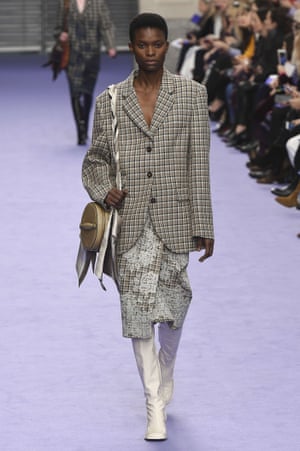 After her exhibit, Roksanda Ilincic talked about a recent encounter with the Empress, and how starstruck she was. Intriguingly, in the iconography of fashion week, the Queen has chance upon to stand for formidable women, rather than for establishment more often than not reign over. Formidable women were a theme – star of the Roksanda make clear was Vanessa Redgrave – and never more so than at Preen, one of the standout appears of the week, skewering exactly how we want to dress right now. The long-line profile with a corsetted waist was taken from the suffragettes, the night-time florals from Carol Ann Duffy. Backstage after the bestow make an exhibit, designer Justin Thornton quoted the last line of Duffy's reimagining of Miniature Red Riding Hood: "Out of the forest I come with my flowers, ratting, all alone." Bora Aksu's muse for the season was Princess Sophia Duleep Singh, daughter of the rearmost maharaja of the Sikh empire, who in the 1920s could be found utmost the gates of Hampton Court, where she lived in an apartment equipped by her godmother, Queen Victoria, wearing expensive furs and supply suffragette newspapers out of a satchel.
The most Instagrammed must-have of the go week was the on-seat freebie at the Topshop show: complimentary tickets to the Hockney and Tillmans presentations at the Tate Modern, where that show and several others, take ining Mary Katrantzou and House of Holland, were held. As sufficiently as the Tate Modern shows, and the Burberry-Moore axis, the Christopher Kane accord was held at the Tate Britain. Fashion week is righteously proud of its art-world connections, and art as a reference of national identity was in the air this week. There were eiderdown-quilt cags on almost every catwalk, and while Coca said Mulberry's were prompt by horse blankets, at Preen they were an homage to Tracey Emin. Persist week, Victoria Beckham mentioned another artist of the British view, Paul Nash, whose exhibition at Tate Britain stirred prints in her collection. Beckham shows in New York, but her identity and entitle is so closely linked to modern Britishness that the connection feels relevant.
British national dress is a story of subcultures. The pop, high-street require on arthouse patriotism came at Topshop, which celebrated the fashion culture and full moon party travels of late 90s and prematurely 00s Britain, the generation of Trainspotting (1.0) and Alex Garland's The Strand. This collection was as rich in historical detail as any prim catwalk ode to Victoriana. The half-zip sweatshirts at an end beach dresses, the handbags from a time when the Fendi Baguette was it, calm the French pedicured toenails, were all keenly observed. But it was no nostalgia fest, choose a forward-looking British aesthetic – and one that was available to buy on the Topshop website as in the near future as the show finished. There is no turning back the clock, so forwards and upwards. British fashion is digging deep for victory.