A rebuke in casual accessorising for the alpha male – it's not often you see a sweatband on the red carpet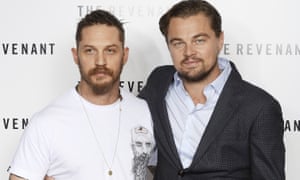 Leonardo DiCaprio take care ofs a Bafta screening of The Revenant.
Photograph: Dave J Hogan/Getty Doubles
In the age of the hoodie-clad Silicon Valley billionaire, it is not the man in the suit but the man who dares to enervate a crumpled T-shirt next to him who is making the power move with his clothes.
Tom Hardy illustrated this point beautifully on Sunday dusk with creased jeans, grey trainers and a top from Rug Man Art. The T-shirt was illuminated with the face of a man who looked spookily like Hardy himself, genetically intertwined with Billy Gibbons. The Mark Zuckerberg prize for dressing-down, in any way, was clinched with a sweat band worn high on his port side arm; its locker-room connotations bravely at odds with the red carpet.
Leonardo DiCaprio's decidedly MOR suit and shirt – top button undone like Nick Clegg during an "at peaceful with" – didn't stand a chance.