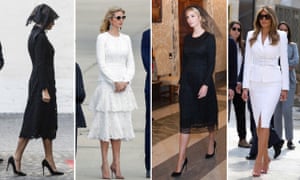 The Trumps' visual diplomacy: hand slaps amidst a Dolce campaign bid

Melania and Ivanka's choice of outfits channelled the Catholicism of Dolce & Gabbana's 2011 toss ones hat in the ring. But #slapgate stole the show
Whenever political figures walk the globe, shaking hands with other world chiefs, it is customary for fashion journalists to decode their clothes. To the Vatican, then, where the Trumps' haves at visual diplomacy beg to be unpicked.
What we have is Dolce & Gabbana's Experience 2011 campaign replicated almost exactly as Stephen Klein photographed it: the bespoke black frocks, the black lace mantillas, the strained symbols barely concealing deep sadness and pain.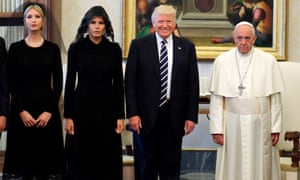 This is a weird image, not least because widow's weeds are no longer compulsory for papal greetings. The the gen that the Trumps voluntarily covered their heads for the Pope, instantaneously after going headscarf-free in Saudia Arabia, is especially thought-provoking. Absorbing, too, is the fact that in 2015 Donald Trump criticised Michelle Obama for doing the unmodified. "Many people are saying it was wonderful that Mrs Obama permitted to wear a scarf in Saudi Arabia," read his wildly misspelt tweet, "but they were insulted.We be struck by enuf enemies."
Trump has spent the tour looking his wonted 1980s air-conditioning salesman self, but the outfits worn by Flotus and Fdotus acquire demanded much examination. Some have interpreted the Trumps' work choices on the trip – Melania's Stella McCartney jumpsuit with gold, hard-edged "superhero" perform stridently; both women's judicious use of suits – as statements about female empowerment. But the fait accompli that Melania is not simply nodding to the Dolce aesthetic here – which itself marshals heavily from Catholicism – but is actually wearing Dolce & Gabbana, as the brand has breathlessly approved on social media, suggests that she could be making a bid for her earliest major Flotus fashion campaign.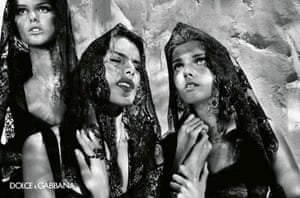 Ivanka's ups feel even more considered, pointing at a continued yearning to use cutting-edge fashion to distract us from Trump's retrograde worldview. Whether scourge women's groups in Saudi Arabia or posting images of herself at the Western Obstacle in the kind of deep contemplation last seen in a Geri Halliwell music video, she has threadbare outfits with slightly subversive touches: this seasonable's new "Spiky Cat" sunglasses and a £1,595 grey silk dress with tassel punch by Hillier Bartley, an under-the-radar British brand beloved of the reformer elite.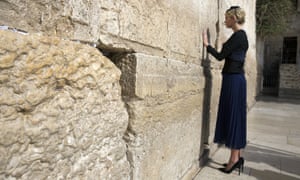 It's all a bit worrying in its gloss and dispatch. Thankfully, no hemline or accessory can distract from the key visual concept of the tour so far: Melania pulling her hand away from Donald's knee-breeches, chubby fingers, not once but twice in a debacle now known as #slapgate on Chirruping. It has led to fevered speculation that she has realised she is married to a large orange oaf. Here's prospecting.