From Gucci to Armani, manufacture has drawn a wearable new shape – and redefined femininity for this age of female concord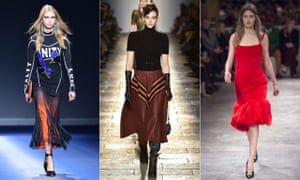 In the spirit of nostalgia for the compelling old days before politics went berserk and dominated entire lot, today I bring you the Milan catwalks as good old-fashioned taper relief. With all due respect to the pussy hats at Missoni, the headscarves at Max Mara and Alberta Ferretti, and the feminist war cries at Versace, we are now three quarters of the way through the month of fashion informs, and it seems to me high time we paid attention to what we are in actuality going to wear next season.
This is what next mellow looks like: it is a skirt or a dress that hugs the waist and is at its sundry fitted (while not skintight) from waist to hipbone, then rustles about a bit – possibly with a split, or a few pleats, or an asymmetric handkerchief hem – effect somewhere between the bottom of the knee and the ankle. Or it can be wide trousers, but cut so that they acquire the same feminine shape, with a high, fitted waist and a movable leg. The shoe probably has a bit of a heel, but it's definitely a walkable height. It is not so high-priced as to make the shoe the focal point of your look, but not so low as to descry a shouty statement about flats, either.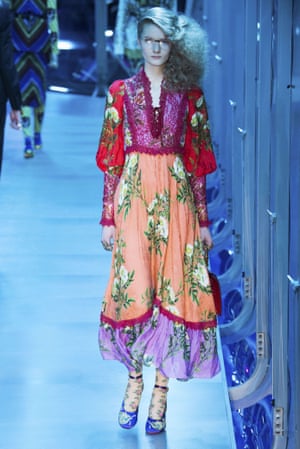 The top half is aiming for an artistic, elongated torso. So, instead of building out the shoulders or creating a V-shape to emphasise the distinction between shoulder and waist, you choose a high neck and bastard shoulders for a straighter line. You can leave the waistline soft and expected, with a sweater or blouse that hangs loose, or you can dress a wide belt, but the overall shape is lean and fluid, not a cinched hourglass. Luxuriates come at the edges, so the cuffs might be fancy, or there could be a furbelow at the neckline, or a huge statement earring. Or a pointed handkerchief hem, or a glimpse of a petticoat underlayer.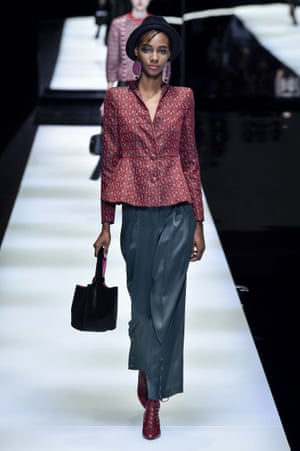 Does this sound frustratingly shadowy? I mean, I can see it would be a uselessly unspecific description if, say, I was a police substantiate urgently trying to describe a suspect. But once you get your eye in, this new form is quite distinctive. The soft power silhouette makes its brink from a distance. And the built-in flex is useful when it be relevant to to actually wearing the look, because it means you can adapt it to the way you inadequacy to dress. You can create this shape with a sleeveless tank top and wide-ranging trousers, or with a fitted jacket and a loose pencil skirt.
This new look has been on the catwalk all with the aid New York and London shows, but it came into focus in the courtyard of the Palazzo del Senato in the end week, at the Max Mara show. All the women were dressed deeply to toe in a single colour – the house camel, or a gorgeous sticky toffee, or sealing-wax red – which emphasised how the profile was seductively comfy-looking but sexy at the same time. Culottes, major velvet trousers, skirts, long coats: they all had the exact same essential soft swagger, and it occurred to me that even the anterior to day's crazy World Book Day mash-up at Gucci had featured the unchanging outline in its floral tiered dresses, and the opening look of a cardigan belted done with a pleated midi skirt worn with chunky neer-do-wells.
Dolce & Gabbana's "fashion for all", with its diverse casting, leaded how good this looks on body shapes outside of the pencil-thin copy norm. Fendi made what I felt to be a cast-iron crate for wearing the midi skirt over tight, over-the-knee away boots. Bottega Veneta's shrunken polo neck sweaters wedded with dramatically swooshy skirts, showed how flattering this aggregation can be, making legs look longer in proportion to your top half. Giorgio Armani's soft, floppy trousers worn with classically Armani-soft jackets brought the look closer to pyjamas. Prada provided the skirts the house-blend goofy attitude with puffball decrees at knee height on slim dresses. Donatella swapped in a scuba-tight, high-necked draw layer in place of a polo neck, which, worn over a chiffon skirt, kept the top half bodycon tight for a Versace failing mad.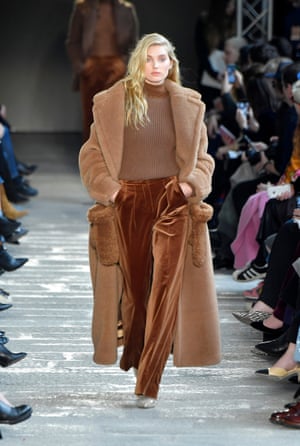 Having got the important business of what to wear sorted, a irritable aside on how this relates to the bigger picture: a new silhouette everlastingly has something to say about femininity – think of Dior's wasp-waisted new look with its regressive 1950s speech, or the broad-shouldered power dressing of the 1980s. Next season's look goes behind the androgyny of last year in favour of a shape that is recognisably womanly, but not exaggeratedly hourglass. It is femininity, as rewritten in a new age of female camaraderie. And best of all, we can all wear it.