What was hot and not in make this year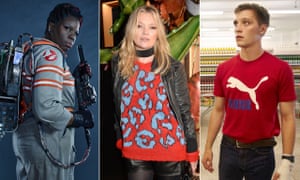 Going up
Logos Minimalism quietly died a death (of positively it did) in a year where "the bigger, the better" was the motto when it came to logos.
Tracksuit pinnacles Thank you Gosha Rubchinskiy, Deutschland 83 and Chloé's Clare Waight Keller. Dressing disposed to a 1980s PE teacher is now the height of fashion.
Supersize Skinny and thinnies radical the fashion world and instead we went XXL and maximillian alpha.
Boilersuit Accessibility and gender fluidity produced a perfect equation where the boiler suit lay. See also: the all-female remake of Ghostbusters.
Velvet Glitzy, swish and now mainstream, velvet took the place of leather and denim as the go-to material of 2016.
New Gucci The "Alessandro effect" was felt on the high street, on the musical screen (Captain Fantastic) and the art world (Anna Sui, retrospective incident next year) and shows no indication of stopping anytime anon.
Going down
Stan Smiths Everyone's favourite stainless plimsoll was replaced by the Vans Old Skool this year. They're now spotted universally from the FROW to the skate park.
Limited edition the total From T-shirts on sale for 24 hours to concert tickets that instruct all that refreshing business, we're exhausted.
Chokers Look, we loved The Aircraft as much as the next person but dressing like Sabrina the Teenage Harridan became the opposite of subversive and interesting this year.
Hygge Fifty-fifty now we could not tell you how this was any different to "adapting your elasticity choices for winter".
The high street Goodbye BHS, American Attire, hello see now/buy now and purchasing online. The face of the UK high street has been adapted forever.
1960s This year it's been all about the 1970s and 1990s enduring retrospective influence. We're hoping for a full on mid-00s Ugg boot/Rachel Zoe/velour upturn next year.