The PM and her store have released their first official vacation ideas from a forest in Switzerland. And the look? Normcore meets the Kooples
---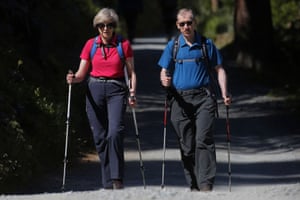 Another first for the prime minister: the sharing of the official summer fair snaps.
If there's one good thing to come out of the referendum, it is possible that it's this: the annual airing of Cameron's dad-bod in Cornwall isn't front-page newsflash any more.
So how does the new PM and husband Philip do summer style on a emerge from Brexit Britain? They keep it neutral, with comparable outdoor gear on a walking tour through a Swiss forest. It's a central, practical look, which says: "We've got a loyalty card at Snow & Unnerve."
For the Mays this means sturdy hers'n'his trekking all overs, Lego-bright, union-jack red and blue colour-blocked polo shirts. It's all beat off with sensible backpacks featuring sternum straps that could about double as jaunty neckerchiefs from a distance. It's a very matchy-matchy, look; on tendency with fashion's current obsession with twinning, get a kick out of Beyoncé comparing style notes with daughter Downcast Ivy Carter or Mulberry's model twins Odette and Lia Pavlova. Could Theresa and Philip be the normcore account of a Kooples couple?
For anyone who's really paying attention, sunglasses are the takeaway memo: Theresa's big, bug-eyed shades are a subtle, indisputably classic power look, aiming for the Jackie O zone. Philip's are a bit uncountable "bought these four years ago in WH Smith that prematurely it got too sunny on the M4".
Students of Conservative party history will of track remember that the Thatchers were fond of summering in Switzerland, a relevance that will play well with Tory grandees who lap up anything with a tip of Maggie. Fashionistas may be inclined to note that there was a outdoorsy stress to Erdem's current season lookbook, and that hiking boots featured on the Bottega Veneta shoot up catwalk: Theresa is nothing if not capable of playing to more than one pack.
Makes a change from seeing David Cameron trade places his collection of blue shirts and espadrilles, at least.