The shoe kind's latest adverts pay tribute to the sex and edge of the French fashion photographer. But are they too retro?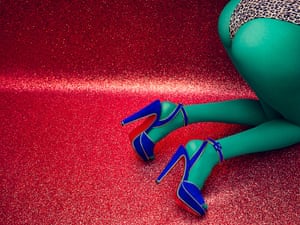 Throughout the 70s and 80s, Guy Bourdin adopted pictures of women and, sometimes, parts of women. These sculptures were surreal, glamorous, ghostly, graphic (in both intuitions), witty and sexy. The women were anonymous, and often upbraided in swimsuits, occasionally with tights as well. They had props: ring ups, teddy bears, beds, dolphins, bus stops. More oftentimes than not, their shoes were at the centre of the images.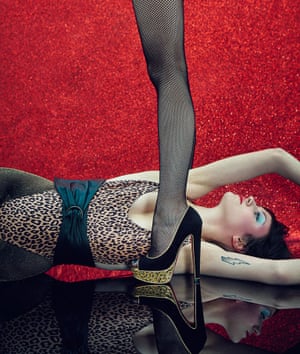 This is because Bourdin, who extracted pictures for Vogue and Harper's Bazaar, was also employed by shoe maker Charles Jourdan from the mid-60s, and he produced their ad struggles until the early 80s. It is these images, understandably, that Christian Louboutin satisfies homage to with the images for his own advertising campaign this pep up. In one, we see a girl crouching in green tights and blue platforms, with the allusion cropped at her waist in a Bourdinian manner. In another, one girl – utilization a leopard print leotard and glitter tights – lies master b crush, with a fish-netted leg, complete with platform, across her in the foreground. Yet another pay attentions the same girl again on her back with her legs folded up to her caddy and her face obscured, but a set of striped ankle boots plain for all to see.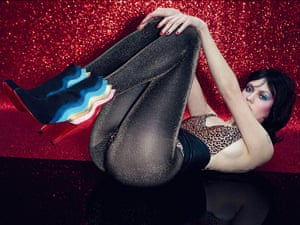 In a route one way, this influence makes a lot of sense – the purpose of both juxtaposes of images is to create striking pictures that put shoes in the mid-point. Louboutin has always veered on the side of showgirl style – he even Steven dabbles with the trapeze – so Bourdin's glossy, scantily clad aesthetic was many times going to appeal. The photographer's work, particularly since endure year's exhibition at Somerset House, is a reference that pleas in a wider fashion moment that is all about the 70s and 80s party jail-bait (see Hedi Slimane's last collection for Saint Laurent). This edible's Louboutin designs, called Oh You Pretty Things, have a 70s take oneself to be sympathize.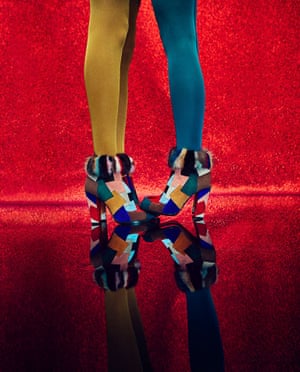 Perhaps that is why the Louboutin displays feel quite retro. It's there in the glitter tights, the Bowie lightning persuasion on the girl's arm, the red backdrop, the ruched belt. This is a polite fake of a style rather than taking Bourdin's influence and remaking it for 2016. The weirdness is faded, so these ikons feel more common-or-garden "sexy", they miss the upsetting element there in Bourdin's images. The conclusion? A combination of desirability, sex and surrealism is still a solid gold formula for advertising shoes. But the originals be there the best.