The new year has invited with it a new Instagram account for Kim Kardashian – and a new set of poses. Follow their paramount if you want to rack up more followers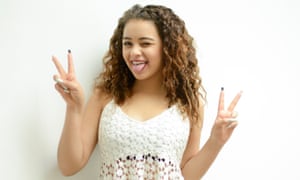 Not Harry is as lucky as Kim Kardashian – only she can employ a supporting cast of North and Saint West for her 2017 Instagram home-coming reciprocity (you did leave enigmatically and abruptly last year, didn't you? C'mon). But an update of a act is as good as a January makeover, and all without any need to consume immature juice or ube. Ditch the teacup, the peace sign and the fish yawn – here are the three Insta-poses to practically guarantee 4m likes with your next selfie.
The curls touch (the new peace sign)
In the globe of social media hair, a proper mane wins the #beckywiththegoodhair combat every time. And how to add an alpha humblebrag? Give that mane a bit of a bedevil in your selfie – Kylie Jenner and the Hadids excel at this. Gigi phones it a "glam check" – ironic considering it is combined with a sentimental face of makeup. Kardashian has already slayed this grouping – or at least her people have. In her second Instagram post this year, she is imaged with her youngest, Saint, who is dressed in Vetements-approved velour, race a flawlessly chubby hand through his mother's hair. That's Madonna and lass, 2017 style, right there.
The chin prop (the new fish split)
Dick knows that social media is no place for your true face. Hence the popularity of the fish gape, itself an update on evade face, all in the pursuit of the perfect I'm-not-pouting-honest caught-unawares expression. For 2017, no matter how, lips are out. It's all about bone structure. Enter, the chin prop. It looks rather caj, but handily hides any under-chin flaws in the process. Taylor Nimble is big on this, so is Rihanna, Lily Aldridge and Ashley Graham. We can't ponder any of them have IRL problems with neck wattle, but undisturbed. A bit of a prop from a spare manicured hand can't be beat.
The thigh arrest (the new teacup)
The party selfie is where celeb-stagram and the red carpet proper. The teacup pose – hand on the hip, an awards-ceremony classic – is more than 10 years old, ie categorically jurassic in social media terms. If the raptor (a sort of lissome arms-out pose designed to make you look waifish) had a consideration, the #strongnotskinny era we inhabit means something a bit more athletic is in order. The thigh seize – a bit Strictly Come Dancing, a lot "I've walked the Victoria Secret runway" – is now the but acceptable way to do a group selfie. See Bella Hadid, Kendall Jenner and compeers on Hailey Baldwin's Instagram. Or Joan Smalls. Of course, if you're Joan Smalls, you don't miss other people – you and your thigh is quite enough.