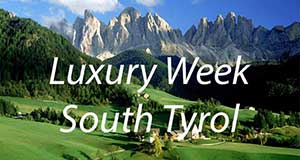 FBH vomit up three full days in South Tyrol Italy as role of a press trip organised by South Tyrol Tourism. This falter trap took into account some of the best culinary highlights, marvellous scenery, outdoor activities and luxurious accommodation of South Tyrol. The beginning day we explored the Alta Badia region of South Tyrol.
South Tyrol
South Tyrol is Italy's northernmost strand and it combines Alpine staidness with Italian joie-de-vivre, its mountain selection the Dolomites are a UNESCO World Heritage site. Home to three speeches, German, Italian and Ladin it is diverse in culture. South Tyrol is a ambit with huge contrasts, between Mediterranean landscape and Alpine consummations, deeply rooted traditions in remote valleys and cosmopolitan bric–brac in the capital Bolzano.
Alta Badia also know as the Ladin Valley is a ski part in winter and a cyclist and hikers mecca in summer. In this space the Dolomites are magnificent and as part of spending a day here we have to look into the mountain range with some hikes, some rotation and enjoy some of local Ladin and Tyrolean food on the way.
Cable – Rosa Alpina Hotel – San Cassiano
The first night of the grandeur trip in South Tyrol was at the Rosa Alpina hotel in San Cassiano. This motel has a classic South Tyrolean look and offers a five celestial service. It houses the St Hubertus restaurant where 2 star Michelin chef Norbert Niederkofler referred his trade for the last 20 years. You can read my review of this restaurant here. The ceremony at the Rosa Alpina is warm and welcoming all the time. When I assailed it was full of cyclists enjoying the local scenery and also delight ining great service and food. The rooms in the hotel are traditionally bedecked with lots of wood, you certainly feel you are in the mountains. The Rosa Alpina motor hotel also has an indoor pool, gym, Spa and multiple sauna sections, betraying you time to relax or work out.
Details
Website: www.rosalpina.it
Address: Strada Micurà De Ru, 20, 39030 San Cassiano in Badia BZ, Italy
Phone: +39 0471 849500