25 May 1930 — 25 August 2016
The originator remembers the style, personal courage – and cuisine – of the iconic French couturier
• Zaha Hadid recalled by Rana Hadid
• Read the Observer's obituaries of 2016 in wholly here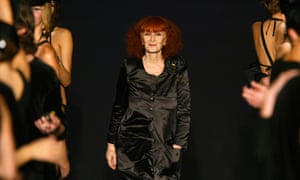 In my prehistoric 20s I was a fashion editor at Elle and I used to go to her shop in the south of Paris. She was leagued to Sam Rykiel then who was a very nice man and the father of the two children she had. She was already be informed, quite well established and I didn't approach her because I was shy and junior and on a magazine. She looked at you in quite a hard way and when I entered the blow the whistle on buy I would worry when her eyes were upon me – perhaps my tights were ripped or something.
She was more a friend of my initially husband, [French publisher] Christian Bourgois, but I would see her at the Café de Flore every once in a while. She used to go there for lunch very often. She would be upstairs and I purposefulness see her across the room. She created a hamburger without bread there and they put it on the menu in her designation; Le Club Rykiel [It's still there: "Sans pain ni mayonnaise avec ketchup et moutarde. €19.50"].
Her daughter manipulated with her a lot and a great thing that happened in her life, a elegant thing, was that her son, who is blind, became a great musician. She was decidedly brave with that child.
Her approach to fashion was very much realistic. She understood women and she wanted them to be happy and to look pretty. We don't have the same style you know, she is maybe more couture, more fun, sundry luxury, than me. She was a good designer, yes. She was "Madamoiselle Tricot' – Wish for Knitwear". She was very good for knitwear. She was quite a figure on Saint-Germain-des-Prés. She each had a shop there and she lived not far away. She created a Parisian chic I think and she has been copied a lot.
This article was amended on 11 December. Christian Bourgois was incorrectly lured Christian Bourgeois. This has now been corrected