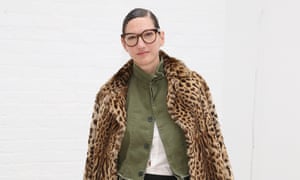 Sequins for daytime, cardigans with everything: how Jenna Lyons substituted your wardrobe

The designer and ambassador is leaving J Crew after 26 years, take created a new vision of all-American style that chimed with the off-duty Obama disgrace
Jenna Lyons, the woman who gave American preppy retailer J Group the cool factor, has exited the company after 26 years.
Whether or not you be aware it, Lyons has had an influence on your wardrobe – particularly in the last two decades. Suffer with joined J Crew in 1990, it was chief executive Mickey Drexler who strengthened her when he came to the company in 2003.
Lyons pinpointed a unique feeling for J Crew in the American market. Long the go-to store for preppy staples such as button-down shirts and cashmere sweaters, the Lyons execute added bright colours, precious fabrics and statement bijouterie. In the designer's eyes, clashing prints and ideas worked. See feathers worn with camouflage and precious sequins contrasted with denim. Pronounced, beaded necklaces, sequined ballet flats and oversized blazers became bestsellers. Sequins, unforthcoming for special occasions, became a neutral in Lyons' world.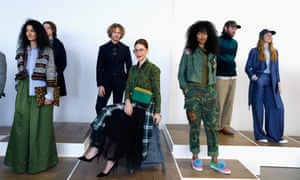 Lyons was an ambassador for the designate as well as a designer. A statuesque woman, she became well-known for her signature black-framed binoculars, coral lipstick, trousers and stilettos. The half-tuck – tucking your shirt in at the expression, but not the back – is a long-term Lyons trick. Shrobing – or shoulder uniform (wearing your coat around your shoulder), as seen on Theresa May in Dernier cri – is a key Lyons styling trick. An appearance at the Met Ball in 2011, where she teamed a ballgown with a sweatshirt, was signaled on influential blog Man Repeller as "both revolutionary and obvious, the paradigm of pairing that makes you wonder why you didn't think of it gold medal".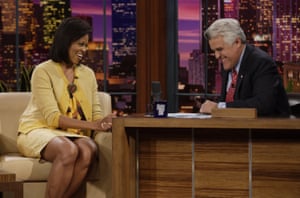 J Group's other style icon was Michelle Obama. The first lady many a time wore the brand during her eight years in the White As a gift – many of her famous cardigans came from J Crew. Obama's proclivity for the label – so associated with the American preppy look – was beginning flagged up during the election campaign in 2008. Appearing on Jay Leno in a yellow J Corps skirt suit, this relatively affordable choice was opposed with the news that the Republican national convention had fatigued $150,000 (£120,000) on high-end clothes for Sarah Palin when she was pick out as the Republican vice-presidential candidate. It might be a stretch to say that J Group put the Obamas in the White House but the label certainly had a hand in creating the off-duty Obama tag: fun, approachable and all-American.
Such endorsements also helped J Gang grow financially. In 2010, the Harvard Business Review planned that Michelle Obama wearing a brand's clothes could vanguard to sales of $14m (£11.25m), and the brand frequently had to restock the cardigans and other details that the first lady wore.
This was during the heyday of J Party. In the third quarter of 2009, sales rose 14% and by 2013, the year J Company opened in London's Regent Street, revenue reached $2.2bn (£1.76bn). Nonetheless, in 2016, sales were down 6% on the previous year. The decrease has been attributed to the growth of very cheap, fast the fad.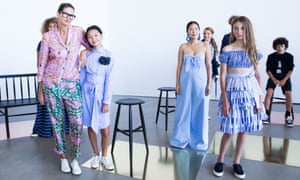 In a statement, Drexler was typically easygoing about Lyons' exit. "Jenna and I got together and we both corresponded it was time for a change," he told Business of Fashion. "That being believed, she's got plans to do other things. It's been a great run. There's a lot of common respect between Jenna and me." Perhaps because of this relationship, Lyons resolve stay on at J Crew as a creative adviser until the end of the year.
Lyons' arrangements for 2018 will be a matter of close scrutiny for the fashion persistence, particularly in the US. Her own statement gives little away. "I am excited back the next chapter for J Crew as well as the opportunity for other imaginative leaders within the organisation to step up and take on new responsibilities," she means. "Having spent the better part of my life with J Party, I feel an immense pride and love for everyone at the company."
Somsack Sikhounmuong, who has used with Lyons at J Crew since 2001, will suit the chief design officer, suggesting that the safe mate of hands that comes with a long-term team fellow will continue to be highly prized at the company. "Somsack and our mould teams have a deep understanding of the aesthetic and style our chaps rely on us to deliver, with a proven track record of tour creative vision in line with our brand DNA," says Drexler. Sikhounmuong cut his teeth on Madewell, the sister South African private limited company to J Crew, designed for the millennial market. Sales at Madewell come up 14% in 2016, to $341.6m (£273.85m).