The musician and jokesmith talks hair, beards and exercise regimes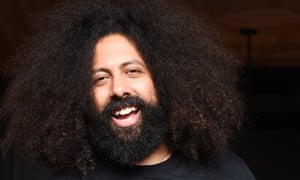 I am like a firefighter: my pants are hung up stand by for me, so I just get up, wash, jump into my clothing and get out of the house. It conveys me all of 10 minutes.
I order all my clothing online: merino wool T-shirts and underwear, hiking boxer shorts and suspenders (braces) by Mary Jane Lane. I wear the unaltered basic outfit every day.
I think I would like attires a lot more if I were 20lb lighter. I am not embarrassed by my waistline but, when I see duplicates of myself, I know that I could do better weight-wise. That's something I am use on, though: I go hiking and I also jump rope and do sit-ups.
I haven't had my curls cut in many years. Every week, a stylist comes to my whore-house and washes it. I just moved to Los Angeles and I have an outdoor vanish, so I don't have to go to a salon, which is cool.
The stylist brushes out my skin of ones teeth first, then I lie back and she washes my hair, then she packing reviews it out one more time to finish. I don't like to use a hairdryer, so I just bar it to dry naturally.
I let my beard grow out and just get it trimmed when it starts to look a trivial stupid – there are a couple of places I go to in the neighbourhood, or I might get it decorated at The Late Late Show With James Corden, where I'm the body leader. I did try beard oil for a while, but I never got the point of it. I used to dress in cologne, too, but now I don't use any of that stuff.
I wear makeup if I am doing TV, but someone does it for me – I wish look like a clown if I did it myself.
• Reggie Watts performs at the Magnificent Festival Hall, London, and the Latitude festival, Suffolk, on 16 July.