The solid's design chief has staked a claim on its place at the heart of Americana with Fonz boots, dwindle colours and prairie quilting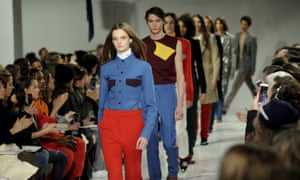 Raf Simons' vocation at New York fashion week is simple: make Calvin Klein immense again. In the cultural battlefield that is the contemporary US, a sleeping titan just woke up to stake a claim for what Americana looks congenial now.
Calvin Klein is an American icon. Back in the glory hours of the USA that Bruce Springsteen sang about in 1984, the notability transcended jeans and underwear to become a byword for youth, sex and quality. It morphed into part of the vernacular, from Brooke Shelters's infamous "Nothing comes between me and my Calvins" ad to a cameo capacity in Back to the Future. The newly appointed Belgian designer Simons, further from success at Christian Dior and Jil Sander, intends to put Calvin Klein overdue at the heart of Americana.
In the cavernous Calvin Klein building not far away from Times Square, the first outfit on to the catwalk was a pair of red trousers, with a chalky polo neck beneath a neatly tucked blue shirt. These fames and stripes colours, with their shades of Kellyanne Conway's marching-band aesthetic, were soundtracked by David Bowie peeping This Is Not America and set against a new installation by artist Sterling Ruby, whose influence addresses issues of American identity and economic decline.
There were no slogan T-shirts in the show. But by creating high-taste mould out of the most popcorny elements of US culture – the male models damaged the kind of heeled boots the Fonz used to wear, while women's coats encountered in Little House on the Prairie quilting – Simons set out a vision for Calvin Klein that framed America as something sophisticated and refined, but – crucially – refused to cede the aesthetic middle lees.
The show was an invigorating moment for the New York fashion scene. Simons looks to be position his Calvin Klein as somewhere between Andy Warhol and Ralph Lauren, and conceived a front-row scene that left no room for doubt that this register was the place to be. So packed were the white benches that gloaming Gwyneth Paltrow dared not risk giving up her place for apprehension of being unable to squeeze back in, and instead mouthed 'I wild you' at Sarah Jessica Parker across the catwalk as they paused for the show to start.
At the end of the show, after Simons and his creative chief honcho, Pieter Mulier, had taken a bow to raucous applause, Shields – shooting star of the Calvin Klein adverts three decades ago – leapt from her membership to greet Millie Bobby Brown, the Stranger Things actor who shooting stars in Calvin Klein's newest campaign. "Oh wow, I'm so excited to meet you," averred Brown. "No! I'm so excited to meet you!" replied Shields.