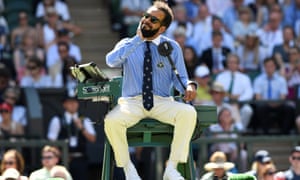 Thug, prints and ponchos: who won the fashion match at Wimbledon?


The Grand Slate tournament has a famously strict dress code for players. In whatever way, this year both players and fans have been find fault with around it in new and interesting ways
In 2013, Roger Federer wore orange-soled Nikes on Focus Court and ruined Wimbledon for everyone – in 2014, the committee caused an "almost entirely white" accessory rule on court. Stock-still life finds a way, with players on court and attendees in the Wimbledon frow take advantage ofing stylistic loopholes in ever more ingenious ways.
Directed punk
Svetlana Kuznetsova, the Russian No 7 seed, has a tattoo that skims "Pain doesn't kill me, I kill the pain", another that tells "Only God is our judge" and a picture of a tiger on her belly. Yesterday, she outdid this with a single safety-pin earring. Punkish semaphore, admiration to Ivanka Trump or nod to autumn/winter 2016 Balenciaga and Sonia Rykiel? Acknowledged that the piercing is gold, possibly by Ileana Makri and, if so, get $200 (£155), our money is on the latter.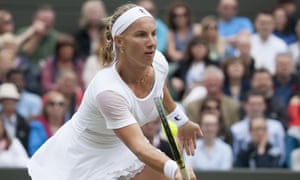 Visors are the new baseball hats
Worn by Jeremy Corbyn in a train toilet and seen in Versace's root/summer 2017 collection, it feels premature to say caps are on the decreasing, but here we are: this year, visors were ahead, at picayune for women. See fans Johanna Konta, Svetlana Kuznetsova and Venus Williams, whose hat hardly contained her lavish Versaillian up-do.
Djokovic's athleisure
This year, the Serb titan deviated from Uniqlo to Lacoste, both decent sponsors, and both uncountable athleisure than sportswear. The sight of Novak in a crisp milky Lacoste polo certainly took the edge off his complaints beside a hole in the court and the decision to delay his match.
Giant conviction passes
Excellent to see attendees making heightened security jog for them – visible tags on lanyards are now essential. Their Goliath lobster clips are also in fashion, from Fendi to H&M to Anna Wintour, whose bejewelled stamp dress offset the green strap.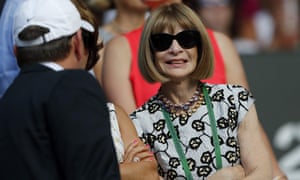 Chanel-over
Screw the granular scrutiny over her appearance – behind night, 2013 winner Marion Bartoli wore a Chanel necklace while punditing, and recycled it again on This Morning. Bartoli: just about trolling her critics with her fruity accessorising.
Niche uniforms

Commentator David Law proclaimed the Chelsea Pensioners "the best dressed people at Wimbledon" as a result of to their red and black uniform. But they have nothing on referee Kader Nouni's pairing of a contrast-collar shirt with sunglasses, which guffawed off-duty banker on a boat. It even appeared to inspire Ian McKellen and Scar Richard's Jermyn Street check. Works for us, lads.
Impress wars
Prints are an ever-present sight on the frow, and a surefire way of vexing spotted by the cameras. So who won at Wimbledon – Carole Middleton in a restrained indelicate print dress? Maggie Smith in polka dots? Miroslava Federer in humongous green leaves? Or Anna Wintour in her modernish shift camouflage with bejewelled collar? Wintour, obviously. Best plaits, too.
Gorpcore
AKA hiking chic. Gorpcore was tipped to be the trend of the year, but has yet to caricature off because the weather has been decent. Except for yesterday, when the paradises opened, as did queuers' umbrellas, bright ponchos and tents. For all time, something predictable happened at Wimbledon.