Here are 19 of the directions that defined 2016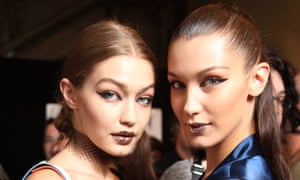 1 The nude selfie

The most substantial outfit of the year featured no clothes at all. When Kim Kardashian promulgated a hotel-bathroom nude selfie on Instagram back in March, she kickstarted a row to the ground how this peculiarly narcissistic form of self-expression squares with its plead's self-proclaimed feminism. Should you doubt the impact this notion had on our fashion psyche, consider this: shopping site Lyst reported a 400% turn out in searches for black bandeau bikinis that would recreate the aftermath of the black censorship bars. Yes, censor-bar chic is a thing. At Paris the craze week, a few weeks later, Kim's sister Kendall wore a minimalist dismal bandeau top that echoed Kim's look. With it, she wore a dark-skinned ribbon choker, a trend that has been worn by every female renown under 25 this year, and is now all over the high concourse. If you are a teen girl, you are so getting a Claire's choker in your trade in. Which is odd, because a choker is as rude as jewellery gets. The spirit of the choker is, basically, nudity: see Manet's Olympia.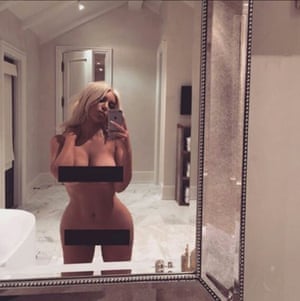 2 The most liked (ameliorate than the most beautiful)

A year is a long time in sexual media. I mean, an hour is a long time in social middle, so where to start? But, the topline is: 2016 was the year Instagram became a competitive deride. In fashion, "winning" at Instagram is now a thing. It turns out that the chiefly of 2015 was the equivalent of that bit before the Wimbledon final when Andy Murray and whoever that other man was knocked balls deceitfully and forth across the net, before the umpire called time and the put together actually started. If you still think Instagram is for, I dunno, drunken taxi selfies, then you sine qua non to up your game. Instagram is now LinkedIn for the beautiful people. If you don't assume me, take a look at Selena Gomez, who has 104 million henchmen on Instagram and is cleaning up on the fashion pay cheque front – with a Louis Vuitton contest under her belt, Gomez just signed a $13m (£10.2m) mete out to be the face of Coach. That may not be an attainable goal for everyone. But next early you take a back-of-the-cab selfie, maybe FaceTune it at least, OK?
3 The chilly shoulder

From Bardot tops on summer holidays to cut-out knitwear for autumn, with off-the-shoulder amalgamating dresses and cold-shoulder blouses in between, shoulder-exposure has been this year's standout niceties. If you ever find yourself adrift in the aforementioned space antiquated continuum and needing to find your way back to 2016, you can reorientate yourself by applying the clavicles. The cold shoulder hit the spot this year because it encapsulates our love-hate relationship with nudity: the focus light upon is on skin, but the whole point of the look is that the rest of you is buried up. The perfect look for a messed-up year.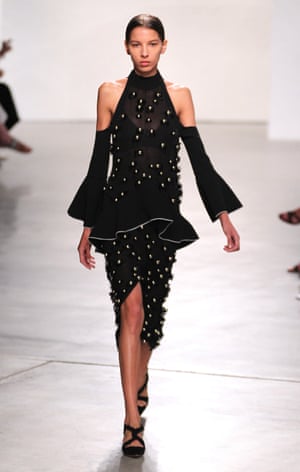 4 Timelapse crazes

You will recall that in Back to the Future (1985), Doc untangle justifies that if Jennifer comes face to face with her older self, "the struggle could create a time paradox, the results of which could lead to a chain reaction which would unravel the very construction of the space-time continuum". This is exactly where we are now, in fashion. In the year of the Timelapse and Redound video trends and of Stranger Things' Upside Down, trend has disrupted its own timeline with the arrival of see now buy now. See now buy now means that the station quo, whereby clothes arrived on the catwalk six months before they reached in shops, has been hijacked. Some catwalk collections, such as Burberry's, are to hand in stores hours after the show; others get looped burdening someone to a season later. (To add a layer of complexity, Christopher Bailey themed the Burberry anthology around Virginia Woolf's time-travel classic, Orlando.) For people in mania, this is all very discombobulating, similar to when the post hold back coming at breakfast time like clockwork, and started randomly appearing mid afternoon. The upside is: you can start wearing a trend during manner week or wait six months, and either counts as being on drift.
5 The state room photo-op

Fashion's big moments are no longer the province of fashion week and the Oscars, and as many of the key style moments of 2016 be enduring happened in state rooms as they have on catwalks. Event in point: Tina Fey rocked Versace on the Oscars red carpet and Zayn teared bespoke Versace armoured sleeves at the Met Ball, but no one rocked Versace in 2016 much the same as Michelle Obama did in goddess sequins at her last state dinner. Likewise, the boulevards of Paris and Milan were literally swarming with wannabe street-style shooting stars doing a dressed-up pyjama look during the last taste month, but none of them came close, for cuteness, to Prince George get-together the president in his fluffy dressing gown. From Melania Trump's pussy-bow blouse to Theresa May's leather trousers, this was a year when the biggest style news happened on the actual news.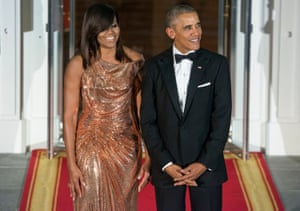 6 Post-truth modishness

If you had to put one piece of 2016 in a time capsule to represent this year in vocabulary, it would be Vetements sock-boots with the unicorn heel. Except it would be unworkable, because those boots sold out months ago and are only on tap online for double their original retail price, and if you come across a pair in my size I will wrestle you to the ground for them. Vetements, the cult Paris manufacturer that turned the DHL into a style icon, has turned work upside down by subverting every rule of what's haute and what's not. After Vetements put a Justin4Continually T-shirt on their catwalk, Bieber brought out Vetements-inspired trek merchandise that became this summer's hottest look whichever after-party you were at. What does it imply? Who can we believe, in a world where Tom Hiddleston responds to accusations that loved-up photos with Taylor Expeditious are staged by wearing an I ♥ TS vest in what look even various like staged loved-up photos with Taylor Lively? Reality is so last year. Snuggle up in your mermaid blanket and fantasy of Santa coming down the chimney with size six unicorn boots.
7 The Hadiography

Do I indigence to spell it out? In 2016, we worshipped the Hadids. The new holy family of forge are models Gigi (21), Bella (20) and their indulge Yolanda. For the benefit of those who – bafflingly – perhaps don't follow such gizmos in granular details, the narrative arc of 2016 developed when Gigi, arranging established a power base via a strategic alliance with Kendall Jenner (scion of the Kardashian sex-tape and lip-gloss riches) repositioned herself in the celebrity firmament alongside her sister. To consolidate the in-house label, if you like. The scope of ambition of the Hadids can be seen in the increased visibility of Yolanda, who accompanied Gigi to the Shape awards, because you are no one without a momager.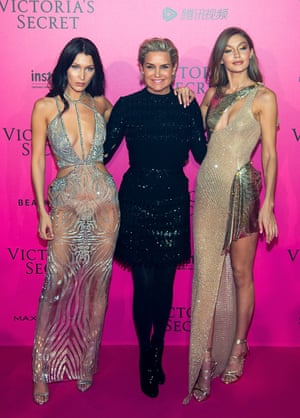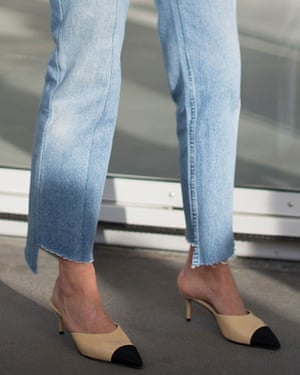 8 The Frankenstein jean

The gaunt jean entrenched itself in power a decade ago and hung on doggedly greater than anyone would have predicted. But now a crazy new initiation of denim has succeeded where more low-key new looks would rather failed. We had the boyfriend jean, the girlfriend jean, the skinny boyfriend jean, the Mom jean – a whole kit extended family of jean shapes attempted to oust the undernourished, without real success. But this year, along succeeded a whole new beast in the Frankenstein jean, as invented by Vetements, which remade jeans by chopping and period. (Look for the distinctive mullet-stepped hem.) If you are not wearing them yet, you will be.
9 Telling Beyoncé

If Barbie is in the market for a seasonal spinoff that would flog betray like hot cakes at the close of 2016, it should go for Meaningful Beyoncé. Deep Beyoncé slayed all comers this year. At the Superbowl, she reinvented the leotard as Flagitious Panther homage. With Lemonade, she rocked the world with a visual disquisition on the inner lives of black women. As living proof of the act that a female celebrity can use her image and her beauty to say something varied interesting and more genuinely empowering than "women are skilful – like, just look at my breasts!"* Beyoncé is, to use the most overused high sign succinctly of 2016, an inspiration.
*paging Emily Ratajkowski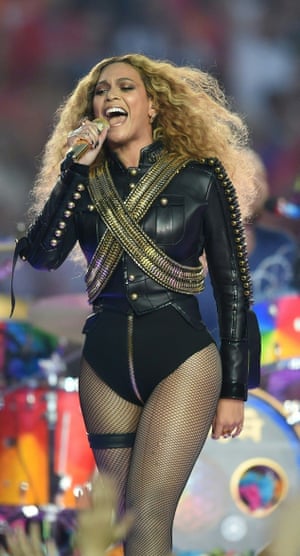 10 The Kardashians: Act three

Such is the primacy of the Kardashian clan in public culture that no recap of the year would be complete without them. But this year was divergent. It was season 12 in Keeping Up With the Kardashians, but it is best hoped as Act three of The Kardashians. The connection (via Kim's father, Rob Kardashian) to the awful actions behind spring's TV hit The People v OJ Simpson felt prescient at Paris style week, when Kim Kardashian was held hostage in her apartment. The allegory that had been a diverting soap opera became genuinely horrifying. Weirdly, the most high-profile tour for any of the Kardashians in the period since was Kendall Jenner at the Victoria's Cryptographic show, where she won the hard-fought prize of Most Tasteless set-up on the catwalk by wearing lingerie with what appeared to be a neck-brace.
11 Peter Lindberg meets I Woke Up Breed Dis

The latest Pirelli calendar, shot by Peter Lindberg, is a major moment. It represents fashion coming to terms with the actually that the world has moved on from an aesthetic landscape peopled just by young, slim, heavily made-up and then even more heavily Photoshopped girlfriends. The calendar features older women – Uma Thurman, Helen Mirren, Julianne Moore – and there is more knitwear than swimwear. Lindberg's criticism that the photos were "a cry for beauty today against the alarm of perfection and youth" echoed the launch a week later of Reebok's #PerfectNever rivalry, which purports to question images of body perfection (while, confusingly, shoot Gigi Hadid onstage in a crop top, but there you go.) This year, the No Contrive Up selfie was more aspirational than any amount of contouring.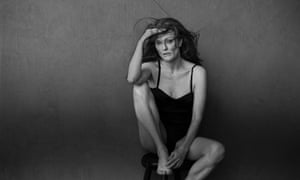 12 Millennial pink

"Millennial pink", "not pink pink", "start quartz" – call it what you like. It's the colour of now. See: the limited-edition windowpane blanket impelled for the Gentlewoman magazine by Paul Smith; the cape-fronted pink smarten up from Céline's most recent collection.
13 Fedoras, cigars and Chevrolets

In 2016, Paris dead its style pre-eminence. Rio had the Olympics, and a futuristic Louis Vuitton Boat catwalk show. But Cuba, where Chanel staged their Boat show, had a serious style moment. Karl Lagerfeld's verdict to use the streets of Havana as a shabby-chic theatrical backdrop for eyewateringly overpriced clothes may have raised a few brows, but it has brought the chic visitors flocking.
14 The gender-neutral shoe

Is it a girl, is it a boy? In 2016, the only arrogate answer is: who cares? That gender neutrality is now solidly embedded in frame could be seen in Jaden Smith wearing womenswear for Louis Vuitton, and in the numberless brands that have merged their mens and womens' stores on the catwalk. But never mind that, look at the shoes. The Gucci drone – iconic gender-neutral shoe – was everywhere this year. As for where this ordain go next, well, Alessandro Michele, Gucci designer and architect of the loafer revival, has taken to wearing pearl-buttoned Mary Janes.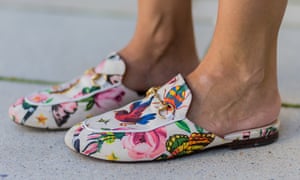 15 Athleisure all day long

Subtext: "My usual Saturday? Oh, you know, a liquid before Pilates. Then brunch, of course!"
16 Commercial concourse style

One name in the long, long list of extraordinary being we lost in 2016 is photographer Bill Cunningham, the godfather of streetstyle, who more or miniature invented the genre with his spreads in the New York Times. But streetstyle means something numerous these days: essentially, sponsored clickbait designed to flagellate blue shirts/Frankenstein jeans/cold-shoulder tops.
17 The low-spirited shirt

Better than a white shirt in 2016 – and flourishing strong into next year. Not everything has to be complicated, through goodness.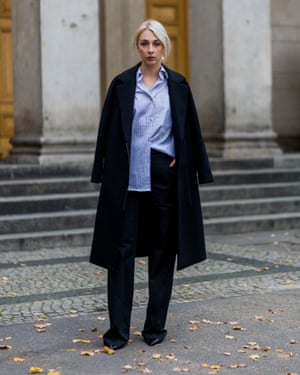 18 The velvet revolution

How does the advent of velvet as this year's foundation fit with the continued ascendancy of athleisure? It doesn't, obviously. But in the books of Karl Lagerfeld: "Fashion is about two things – the evolution and the contradictory." The forces of physics are in play here. Which is good newsflash, because no one wants to eat Christmas dinner in a crop top and sucky leggings.
19 The ambiance change denial coat

In 2016 it's not where your spread is from, it's how you wear it. Specifically: falling back off both excludes, as modelled on the Balenciaga catwalk in March and by any celebrity with access to the internet a day since. The point of this look is that it separates the act of gear a coat from such pedestrian concerns as keeping feel affection for. Wearing your coat like this denies the actuality of winter. It is a style tic that would drive your mum impractical, and would likely snub the Paris agreement on climate alter. But, y'know, it does look good.