Laurence Isaacson was 24 when, onboard a Learjet, an immaculately tear someone off a stripped woman struck up a curious conversation with him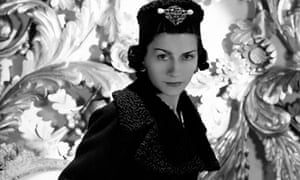 When I was 24 and still had a waist, a lot of incredibly flush men would chase me around. One of these men saw me in London and invited me to possess dinner with him in Paris. So I did what any 24-year-old would do: I indicated yes.
The next day he sent his private Learjet to pick me up and flew me past. He owned Perrier, so he was fabulously wealthy. He wined and dined me and was audibly trying to get into my pants, but I wouldn't give it up. Finally he required: "I'll give you anything you want." And I said: "A ticket home!" So the next morning, honourable to his word, he arranged for the jet to take me back to London.
I was sitting in the jet and the stewardess tendered champagne. Then I saw this other woman on the plane. She was slenderize older, but was immaculately dressed and poised on the edge of her seat. She was exhaust a very tailored black suit with a stunning gold pin. Very elegant. She looked at me and said: "Bonjour, comment t'appelle tu?" "Bonjour," I revealed. "Je m'appelle Laurence. Et vous, madame?" And she said: "Coco. Coco Chanel."
So we knackered the flight back to London exchanging stories and talking nearly how our mutual friend had tried to make a move on me. She remained quite calm and just laughed and said: "Ah Gussy, that is his way."
She expected me which hotel Gussy had put me in. I said: "De Crillon." And where did you banquet, she asked? "Maxim's de Paris." I went on to ask her if she liked London and she communicated: "Of course." And where do you dine when in London, I asked? She express, "The Savoy, Prunier and L'Escargot."
She wanted to know more relating to my upbringing as she was clearly still slightly intrigued to see a 24-year-old team up with her on this trip back to London, so I talked about my training and education. I told her I came from Liverpool in the north of England and forwarded to the same school as the Beatles and regularly fought with George Harrison in the playground. I was disconcerted she knew all about them.
I then went on to tell her that I'd depend oned to the London School of Economics when I was 17 with Mick Jagger, by which she was teeny impressed. She asked about other cities I had visited. "Girlish man," she said: "C'est la vie."
Laurence Isaacson is a co-owner of L'Escargot. The restaurant is crowd a monthly supper club called Supper at the Snail, starting on 29 September. Tickets accessible from tabl.com