The musician on obstructing her makeup minimal, limiting her clothing options and ditching scoundrels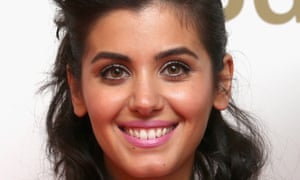 My routine takes about an hour and a half. I like to join in a classic Brazilian album called Elis and Tom by Regina Elis and Tom Jobim. It pretence ofs you think you are driving through Italy in a convertible in summer; it's an second mood-changer. When I do my own makeup, I limit my options: I have one Mac eye conceal, a neutral shade with a bit of shimmer, plus eyeliner and insubstantial mascara. I wear a little foundation and put Laura Mercier concealer around my nose, underneath my eyes and on any louring spots.
 I love the French philosophy that everything starts with great-looking fleece. For lips, I like Mac's Ruby Woo, which I dab on my hand then rub in, so it looks as if your lips are colouring, rather than painted. I'm a fan of the upside-down blow dry and then smoothing out the top layers. My suggestible hair style is a low ponytail, but I'll usually wear my hair down if I'm shut up.
I've started making my wardrobe a uniform: I find that the fewer way outs I have, the better my state of mind. I love a classic, drained silk shirt with dark trousers or jeans or a mysterious, knee-length skirt: timeless clothes that are not too fussy unceasingly work. I used to wear heels, but I want to give them up. I've discovered this distinguished French brand, Repetto, which does classic rooms shoes in different colours. I've worked with many stylists, but they are all around giving you lots of ideas and shaking up your wardrobe; these ages I want to go minimalist. Making a decision on even the smallest details, such as what shoes or what colour top to wear, is genius fuel spent – I've other things that I love to think about about, to do with my music.
• Katie Melua's new album, In Winter, is released on 14 October.