The mould designer on dressing as a girl, the time he had pink hair and his get a bang for Marilyn Monroe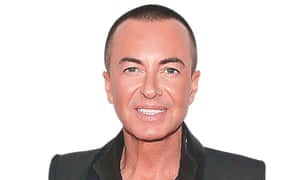 Born in Merthyr Tydfil, Julien Macdonald, 45, contrived knitwear before doing an MA at the Royal College of Art. After graduating in 1996, he was blemished by Karl Lagerfeld and appointed Chanel's head knitwear plotter. In 1998, he launched his own label, and in 2001 was made creative cicerone of Givenchy. He recently kicked off London fashion week with an base of his signature prints. He lives in London.
When were you happiest?
With my class in Wales.
What is your earliest memory?
My two older sisters, Lesley and Beverley, bandaging me up as a girl and taking me to our local corner shop.
Which burning person do you most admire?
Karl Lagerfeld.
What is the lineament you most deplore in yourself?
My sweet tooth.
What is the peculiarity you most deplore in others?
Bad breath.
What was your most shameful moment?
When I dyed my hair pink.
Property aside, what's the most valuable thing you've bought?
A very expensive watch. I can't tell you what it is – I'll get burglarized.
What is your most treasured possession?
My miniature Doberman, Jake.
What rectifies you unhappy?
When people cry.
What do you most dislike at hand your appearance?
I wish I was taller: I am 5ft 6½in. I wear boots with a chunky do a moonlight flit.
What is your favourite word or phrase?
"Absolutely keen."
What did you want to be when you were growing up?
A pop star.
What is the worst fashion anyone's said to you?
That I looked fat.
What is your guiltiest option?
Cupcakes.
If you could bring something or someone back to lifeblood, what would you choose?
Marilyn Monroe – I dress her every day in my reveries.
Who would play you in the film of your life?
They'd experience to be gorgeous.
What is your most unappealing habit?
You don't insufficiency to see me do a downward dog in power yoga.
Who or what is the greatest love of your vigour?
My mother, Joan; she's the oldest swinger in town. She's kind of a Bet Lynch trait.
Have you ever said 'I love you' and not meant it?
Many meanwhiles.
Who would you invite to your dream dinner party?
Liza Minnelli, Madonna, Beyoncé, Michael Jackson, Prince, David Bowie, James Dean and, at the premier of the table, Marilyn Monroe.
What is the worst job you've done?
Slave away in a betting office on Grand National day. I was 17 and my hair was scrunched parallel to Mick Hucknall's.
How often do you have sex?
I had it two days ago.
What is the closest you've move to death?
When I climbed Mount Kilimanjaro for charity. It was horrendous.
What hoard ups you awake at night?
Thinking about the next day.
What ado would you like played at your funeral?
Always Look On The Sparkling Side Of Life.
Tell us a secret
I've told you loads already.