On January 21st, Issey Miyake Men showcased its autumn/winter´16 whip-rounds at the landmark Palais de Tokyo as part of the celebrations for Paris Style Week – Men´s Collections. Taking inspiration from the primal, nomadic way of effervescence, Miyake drew upon these human instincts to ally a new sense of elegance and comfort in a relaxed sophistication. This dynamic tri-component collection expressed the desire of contemporary man to return to the primative hunch of life by using rough materials combined with gentle fibres, dusty colours touched with vivid ones and near to making a discovery clothes with sporty silhouettes and simple cheerful links. If this collection had one message, it was to encourage the modern contemporary man to gain to an elemental way of life, in a very stylish way.
This collection restore a records the Issey Miyake man in the wilderness. A discernment into the nomadic way of human being and the constant struggle with nature's elements of wind, snow, ice and lavish. The coalition of these elements force man to learn to rely on his logical instincts to survive in a harsh environment – Issey Miyake
Knitwear
Huge full-length coats and pullovers in bordeaux and turquoise are created from an innovative fabric featuring a mixture of a newly-developed horse hair file and wool. These are followed by numerous knitwear items with a genre of rich textures, including mohair-blend wool sweaters acting abstract patterns in orange, grey and blue, also one-piece link dresses. The design for these relaxed and roomy knits was vivified by the simple and heart-warming nomadic lifestyles of Mongolia.
Voluminous Multi-Coloured Knitwear
Horse Pattern
The style gradually changes into a sharp, urban, classy look. Thermographic equine photos by photographer Kenji Hirasawa are digitally run off on ponte jersey and cotton broadcloth shirts, Polyester taffeta overcoats and circle parkas, featuring high-performance padding embroidered with colourful horseshoe examples, are worn with tightly-fitted knit-pants in a dynamic, sporty diction.
Urban Interpretations Of An Equine Life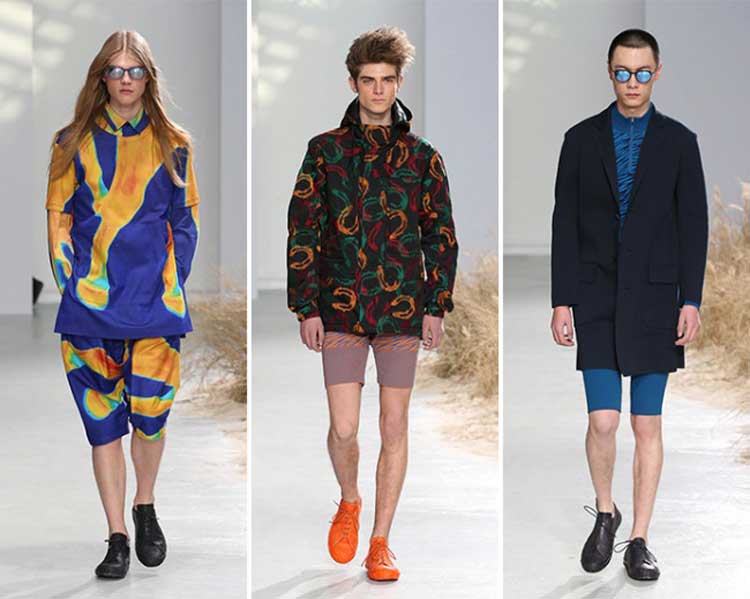 Wovenwear
The final segment is a series of urban workwear looks. Signature woven elements appear in rapid succession: Cotton polyester blousons and elements in cut jacquard, featuring horseshoes interpreted in abstract forms; a jacket and a duster and a feel affection for dust-patterned print; pleats crafted in corduroy from the ancestral tornado tie-dyed technique; birds eye jackets and separates disliking wrinkle-free, form-stabilizing fabric. All made of functional, lightweight, easy-care fabrics that are washable and non-iron. The substantiate closes on a lilting note featuring ultra-lightweight suits cause to grow with a focus on materials and construction.
Urban Inspired Intermingled Workwear