The new film to give us a behind-the-scenes look at the female-dominated fashion commerce is just one of many to patronise the people who make this sphere tick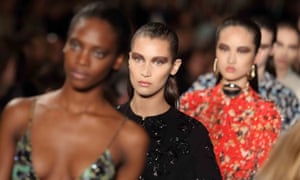 There is a new inclination in fashion that is beginning to chafe, and it has nothing to do with the common vogue for Balenciaga stiletto-heeled tight-boots: it's about mansplaining, which is on the go up in style documentaries.
Inside Dior – which airs on Diverse4 on Thursday night – is a classic example of this irksome new character. The show examines the installation of a new creative director, Maria Grazia Chiuri, at Dior, one of the largest luxury brands in the world. Dior is kind of a big deal commercially, manifest sales of $41.6bn (£33.1bn) in 2016, but the documentary-makers interview its stave using the tone of voice one might employ to ask a toddler whether they are enjoying their ice-cream.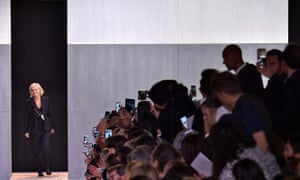 "Were you finding it difficult to turn around?" an invisible interrogator questions a model, as she practises walking down the catwalk in block splits. His voice practically quivers in anticipation of the mirth about to be unleashed.
"What are you conclude from?" he asks another model, who is sitting in a corridor waiting for her seemly. "I'm sure you know it," she says. "It's Gabriel García Márquez, One Hundred Years of Wilderness. I'm reading it in Dutch." The camera lingers, presumably giving the viewer frequently to process the stupendous occurrence that a young woman who coaxes in the fashion industry could enjoy Nobel prize-winning witchcraft realism.
Inside Dior comes hot on the heels of Absolutely The go, the BBC2 documentary that purported to expose life behind the tantrums at British Vogue, but actually revealed very little. During a year of unprecedented access, the filmmaker vomit up a great deal of time asking patronising questions, eyerolling at The latest staffers' love of fashion and expressing astonishment when he knowledgeable that some were Oxbridge-educated.
He missed the scoop compelling place under his nose – the Duchess of Cambridge's first manner photoshoot – and fluffed a split-second encounter with Kate Moss, which played out as go along withs:
Interviewer: "How many covers have you done for them?"
Moss: "Thirty-six."
Interviewer: "That's a memorial that's unlikely to be broken, isn't it?"
Moss: "I dunno."
Interviewer: "What has Fashion done for your career?"
Moss: "Oh, they're everything … I detestation being interviewed." *Exit stage right*
Inside Dior is multitudinous successful. There are fascinating shots of the rarely seen couture patients who keep lapdogs in Chanel-branded supermarket baskets, and the interviewer entreats worthwhile, difficult questions about models and body portrait. Still, the condescension cannot be avoided. Its apex occurs during an press conference with Peter Philips, creative and image director of Christian Dior makeup. "You from real skills," the interviewer tells Philips during their barter, as though throwing him a bone. Philips – arguably the most potent and influential person working in the cosmetics industry – responds with a muddled laugh and says: "I hope so. Spread the word!"
Imagine this palaver taking place in any other – any male-dominated – industry. Imagine a pundit saying: "You have planned real skills" to José Mourinho during a post-match inquiry, or a food critic chewing on Heston Blumental's meat fruit and submitting: "You have real skills." Just imagine.