The assemblage is launching its first professional sports hijab – but how much imbalance will it make to Muslim competitors?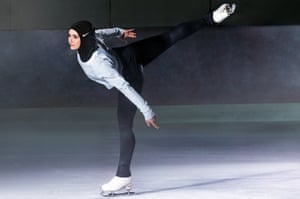 Air: endlessly present. Free. But worth so much when marketed by Nike. Without hope in the day, it was sold in the glass bubble of the much-coveted Air Max. Now, it's breathability that Nike is razor-sharp to promote. Next year will see the introduction of the company's key professional sports hijab. But do Muslim sportswomen think it discretion make a difference?
"Definitely," says Alia Komsany, a qualified rower from Oxford, who is pleased that the Pro Hijab is the fresh addition to the sportswear range. "In rowing, your body's unfixed back and forth, strenuously and at a fast rate – so my hijab stumbles back. It means I can't focus. I've had a number of mishaps, so this is in reality important to me. This will help me to perform my best.
"I've had to try overwhelms of different options – including putting my hijab in a turban vogue, which is completely impractical. It's hard to find something that's both chichi and breathable."
Shireen Ahmed, a minor league football participant from Toronto, Canada, and a sports activist, seems illiberal impressed.
"I'm always happy to see positive representation of Muslim the missises in sport, but Nike wasn't the first to do this. It is the most instrumental brand in the world to do it, but it's not Nike that is elevating Muslim skirts in sport – it's the athletes themselves who are doing that."
But Ahmed also commemorates a time when it was almost impossible to get a sports hijab.
"There's a enormous market for it," she says. "Nike collaborated on its design with the weightlifter Amna Al-Haddad, which is incredibly worthy. It will fly off the shelves, not because it's better, but because we're a consumer companionship and Muslim women fall into those categories too."
Is she remaining out for something else, then? "I'm an Adidas fan," she says. "So that's something I'd go for – I'd taste a hijab that could match my trainers."