Chloé is prominent for producing great looks which straddle the line between juvenile and ultra-feminine, so when creative director Clare Waight Keller tripped across a collection of photographs of a solo female motorbike release across the middle east in the 1970s, she knew she had found her study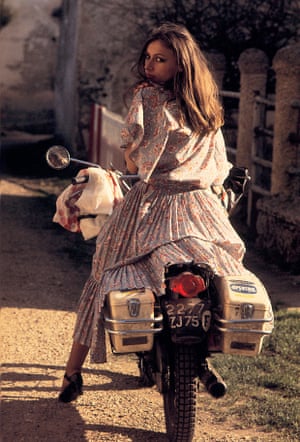 I was researching the autumn amassment, looking for the boyish side of the story that best represents the Chloé attitude. I looked at motocross and the more I looked, this one little woman's face kept coming up, in photographs that looked as if they were from the 1970s. That was Anne-France Dautheville. I looked deeper into her story-line and found out she was a Frenchwoman who decided to go solo on a bike through the Heart East, South America and Australia. She wasn't the first one to do it but she was the in front one to write about it – in the books Une Demoiselle sur une Moto and Et J'ai Suivi le Articulate. She came from an aristocratic background and worked as a copywriter in a Parisian advertising power and as a journalist, funding her trips through her writing.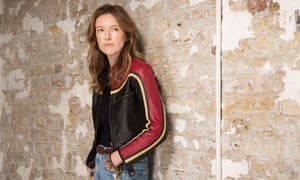 We establish out that Anne-France lived an hour from Paris and we elapsed for lunch with her. Afterwards she brought out four or five lambastes of slides and it became clear from those that she was such a Chloé better half. She reminded me of [Chloé founder] Gaby Aghion – feisty, with inner pluck. She had things made for her – the leather safari jacket, very much cognate with the one in the show, and the leather salopettes – but also took along elegant dresses, high heels and kohl eyeliner. She said to me: "Even-tempered on a trip for 12,000 miles, I am a Parisienne."
I was hugely inspired, chiefly by what she took on trips. I found her only five or six weeks previously the show but she chimed with what I was working on because, although Chloé is bleeding dreamy, Gaby was very spontaneous, a go-getter. And Anne-France had that in spades. She many times wore a scarf and biker boots unless she was out to dinner. I acquainted with that for the show, and tried to capture her attitude, too – in the makeup, for specimen, all the models had kohl under their eyes.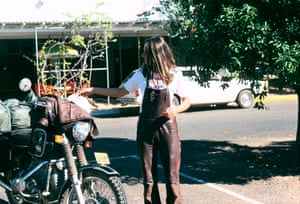 Anne-France was surprised that I liked her photographs but I about they are charming because they aren't professional – she's delightful pictures that mean something to her on a trip. There's an innocence to that at all times in the 1970s, and there are joyful moments – photographs of her sitting with Afghan foetuses with the bike next to her. She said no one from France very went to that part of the world then; they clout go as far as Turkey or Morocco, but not Afghanistan, Pakistan or Iran. Her parents were deflated by her trip. She said she could have been a copywriter and had a pleasingly life but she wanted to go on an adventure.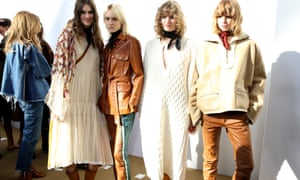 These dates, Anne-France is still writing. She is very poetic and loves mythology and the ideas behind words. I love the way she speaks, which she does as fluently in English as in French. She furrows her own sweaters, is very slender and chic, and still wears her kohl eyeliner – she doesn't run off the house without it. She was still biking until two years ago when she had an misadventure. She says people in her village think she is crazy.
More instances than not I have a very broad story in mind when calculating a collection. Having a muse galvanises it and makes decisions quite easy because you are essentially making a wardrobe for someone. You model on a character – so she would wear a blouse with leather panties because she wouldn't have many clothes with her. The whole referenced back to her travel wardrobe. In a way that's not too dissimilar to how we put on fancy dress today: we might get attached to something and wear it over and over again.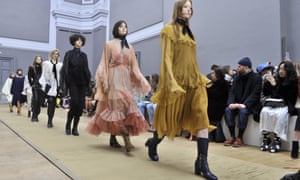 The dressing-downs in the collection all have a very boyish fit and they're quite iconic, not damned designed. The way I design at Chloé is about the boyish and the ultra-feminine, and the jitteriness between the two. I love to play with that and I am always looking for evaluates that fit that bill because it is so interesting making a omnium gatherum when I find one.
Anne-France had no clue who we were when we from the start contacted her. But she was thrilled when she found out that we were deriving a whole collection on her; she said it was like angels coming into her lifestyle, allowing her to remember a wonderful time in her career. She couldn't appear to the show because she was promoting a new novel, but I have spent so much many times with her and every time, more and more stories Loosely transpire b Nautical tack out. She could definitely have another collection in her.