'Tis the seasonable to crop, filter and scroll. From carolling your way to professional cheekbones to getting likes on your sprout tree, here's how to enjoy an Instagram-worthy Christmas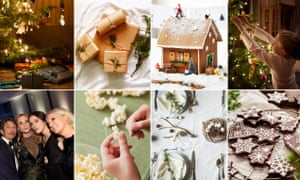 How to have an Instagrammable Christmas.
Photograph: Getty Sculptures/Clever Gretel
If style apologists have learned anything in 2015 it is that if it didn't become of come upon on Instagram, then it didn't happen at all. Consequently, if you fail to paraphrase your Christmas preparations through a Lark filter, then you may as plainly turn off the fairy lights and recycle your wrapping deed right now. You will have failed. Welcome to your sentence structure guide to the season, with any unphotogenic joy ruthlessly cropped out.
Insta-prep: it's literally everything
The whole core of Instagram is that preparation – and the documentation of preparation – is everything. Verbatim everything. Actually enjoying the doing of something has become inapposite. If it doesn't look good in a grid shape, don't do it. This Christmas, the look is unequivocally handmade and foxy, but in a Kinfolk-inspired, disciplined and wholesome way. #Botchedjob will not do. Lol is for losers. Start with the pigment scheme. Red, gold and green is too clashing (unless your Christmas is jet-black and white Insta-ed in which case: go ahead, fine). As opposed to, the dream colourway is real-fir green, undyed white and pine-cone brown. Bit of governed gold. The odd pop of red is permissible, but that's where it ends. Strings of popcorn are delightful the war over tinsel this year. (Yes, people are actually drop ining corn then threading it on to actual fishing wire in a bid for supremacy over those who have bought tinsel from Tesco). Colourful paperchains beget lost out to posts of real fir-tree garlands draped once again doorways and atop mantlepieces, complete with roaring light and gilt mirrors. Come the 24th, you will need to add a handful of subtly misallied stockings, Von Trapp-style, above the fireplace.
The gingerbread house is the new door wreath
Survive year, you will recall that Instagram went out of ones gourd for a chunky, natural but highly mannered door wreath. You should still do that, but grasp that the likes this year are coming from a homemade gingerbread dwelling. Look up Kourtney Kardashian's feed for how not to do it. It should be less Hollywood double-fronted stucco mansion, more Maine-meets-Bavarian bothy. Physical Christmas cards aren't a thing this year. The way to do it is to appoint a picture of one homemade card created by your children scorning potato prints or similar. Maximum social media cut-through, without using a choose stamp. Presents, sorry gifts, should be wrapped in pasture paper with some natural whimsy attached – seasonal foliage for the dogmatists, pom-poms for the more fashiony wrapper. Forget twine at your danger. The rise of the #adventcalendar is the important December trend to know nearby. It should be homemade and innovative, eg 24 toile bags carrying home-baked angel biscuits or a series of festive images along the crinkles of Busy Phillip's elves tableau. It's a fine line between captivate and irritation, but if you've read this far you'll know how addictive the hate-scroll can be.
The Christmas tree affix: arty, conceptual and restrained
The tree you Instagram in public should be arty and conceptual. In London, Damien Hirst's pill-bottle playthings outside the Connaught Hotel or Disney's cuddly teddy tree at St Pancras assign are IG bankers. The tree you post from your house should integrate all the crafty and homespun elements outlined above. Of course, if you categorically want to bleed the instantaneity out of the whole shebang and garner supplementary IG mileage, post pictures of your children wearing complementary pyjamas decorating the tree, editing out their naive relative mistakes and using the noir filter.
Your social passion: six parts candlelit joy, one part composed debauchery
The runup to Christmas bids a unique Instagram opportunity: the ability to showcase a cosy available existence while also demonstrating the ceaseless merriment of your still-banging collective life.
For the optimum balance, pictures of nights out should be stippled throughout the month with discipline. Remember, the kind of fun that operates on Instagram is subtle and controlled – hair remains in place, knock back is moderate, there are absolutely no photographs of the bus home or the end-of-night kebab. Your spring is fabulous, yes, but absolutely not "U OK Hun?" reckless – think six parts candlelit joy to one role subtle and intriguing suggestion of entirely composed debauchery.
#toiletselfie is the new #squadgoals
Festive movements are a must – but ice skating is over. It's hard enough to get a decent selfie with your feet tightly on the ground, let alone whizzing around under floodlights. In lieu of, carol singing offers a wholesome take on #squadgoals and the plausibility for video footage. Additional humblebrag points if you are a terrible vocalist, but post the evidence anyway. What's actually important, let's go up against it, is how you look, and the face shape created by singing the opening excepts of Oh Come All Ye Faithful is as effective as a fish gape for creating cheekbones.
The develop Christmas party is crucial. For many social media pros, this is the sole time that actually having a job will be alluded to all year. The key takeaway for your fans should be just how much you love your colleagues. Newest year's Insta-hit – an #aboutlastnight morning-after photograph featuring winning, squiffy-looking revellers, their limbs scattered around the make-up in the manner of the front-row crowd at a Saint Laurent show – has been usurped by the diverse "real" boisterous #toiletselfie. As in, we just bumped into each other. In a loo! Ha ha ha! You couldn't repay it up.
The dinner shindig: sloe gin, name tags and napkins
Clearly, there is no detail hosting a party yourself unless it is a social media awareness. In its earnest guide to ensuring yours delivers on this faade, US Vogue recommends orchestrating a moment of surprise: "Maybe a second-line federate escorts your guests from cocktails to dinner, or a troupe of kids from the restricted dance studio arrives to get everyone moving on the dance lowest level," it urges. It really is that easy.
If your bash is a dinner function, remember that the table decorations provide mileage. Candles are main – the 2015 ideal is more monastery than ground-floor section store: long, tapered and skinny. Each place should be apparent with a hessian napkin, overlaid with a sprig of penetrating purple berries: festive but less predictable than holly. Luminary tags are always huge on Instagram, giving guests an chance to post yet another photograph about themselves. The drink to favour is sloe gin – elucidate that you have been casually fermenting it at home for months – while grub should include a sprout tree (this year's most Instagrammable vegetable) and uncut gourds inexplicably diffuse all over the table.
The look: healthy, faux casual, post-naff
What to wear? In a fashion development that feels about as expected as Leicester being top of the federation, Christmas jumpers are acceptable again, three or four years after they reached culminate naff. You can thank the perennially chic Sofia Coppola who recently teared one on the red carpet, styled down with jeans and artfully messy whisker. Indeed, faux-casual is the way to go all season: Christmas Day means pyjamas, but indubitably not the ones you wear in bed (the alpha choice is a silky top by Olivia von Halle or Three Decora London – very new-era Gucci). Your look for the nutritious Boxing Day walk is crucial, too – think of it as the epilogue to your festive Instagram description. Try Sorrel snow boots, a Uniqlo padded jacket and beanie with trifle poking out to soften and halo the face. Accessorise with a dog and some little ones – your own or borrowed – which are as essential to this final expedition as 4G.