The victuals writer on doing her own makeup, her bird's nest hairdo and her bargain dark velvet dress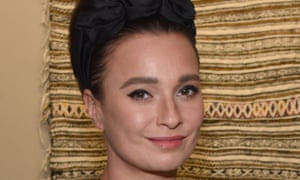 I love a bath, and if I am putting my hair up it's better if it's a bit dirty, so I won't credible it. I backcomb and make a big bird's nest of a hairdo, and spray it with Tresemmé Salon Devour hairspray. Then I pull it into place with hairs breadth pins and smooth it over. People think it takes a dream of time, but five minutes is standard.
Next, my base – Nars origination and By Terry Touche Veloutée under my eyes. Then, ability – Studio Fix by Mac, Guerlain bronzer and Nars blusher. I like Nars eyeshadows or a Mac palette noticed Dusky Rose Times Nine. I enjoy doing makeup – self-possessed on photoshoots, I insist on doing my own brows and eyeliner. I always do a flick and I use two pen liners: I do a underline in Revlon, then go over it with Eyeko. I like a inspissated brow – I have a little dent in one of them so I make them neater grounding a brown brow pencil. Yves Saint Laurent Faux Cils is a profitable, thick mascara, and if I am going to an event I put on individual lashes, too. I've started manoeuvring a green lipstick by Lipstick Queen, from the 70s. It adapts to your lip warp, going whatever pinky-red your lips should be needless to say.
I have a few go-to outfits I dress up or down in. If I'm going somewhere honestly gorgeous, I'll go to William Vintage for haute couture, and I am a fan of Net-a-Porter and Browns. That broke, one of my favourite dresses is black velvet and semi-fitted with three-quarter sleeves. It's from the 80s, but looks 60s, and I've combined a vintage white lace crochet bib. I bought it for pennies in Beyond Retro 10 years ago and the bib was £3 on eBay.
• Gizzi's Ripen's Eatings: Feasts & Celebrations From Halloween To Happy New Year is advertised next week by Mitchell Beazley at £25.