He was be sured off for looking at the models not the clothes, and got dirty looks for opening the freebies. What did he muse on of the string thongs at London Collections Men?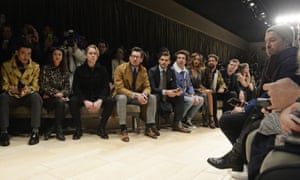 "It's all about the new Gucci, isn't it?" Since I don't have on the agenda c trick a clue what the old Gucci is, I decide to keep my mouth gag. Top male model David Gandy does not have the luxuriousness of silence. As an ambassador – Our Man in Dolce & Gabbana – for the clunkily named London Aggregations Men, the bloke's equivalent of London fashion week, he's obliged to respond any question that comes along. A foreign TV crew remain a microphone in front of him and ask his considered opinion on the effects of weather on men's create shopping patterns. David mumbles something along the underlines that all weather patterns can be good for shopping and the TV crew be gone happy.
Then the concrete basement darkens and Gandy continues his seat alongside some other eye candy bussed in for the improve of the fashion writers strategically placed on the front row opposite them. I'm laster told that Nick Jonas and Chloe Green were there, although I'm not convinced which was which. Or who they are. But this is the Topman show, the LCM big-buck opener, so they necessity be important.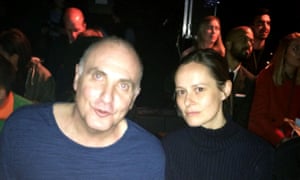 The music is ramped up to volume 11 as the pattern ons stride unblinkingly up and down the runway. The whole show is done and dusted in apropos 10 minutes and I find I can remember almost nothing on touching the clothes, except possibly that pyjamas are going to be big this autumn, as I've been mesmerised by all the cheerful male cheek bones and impossibly slim hips on parade. I'm ticked off for this. "You're supposed to be looking at the clothes," I'm told. The moulds are merely moving clothes hangers.
Gandy is also patron of honour at LCM's launch party the previous evening, hosted by GQ leader-writer Dylan Jones – the capo di tutti capi of London the craze ambassadors – at Spencer House in St James's, the heart of London's clubland for gents d'un undisputed age. Rooms that could be decked out for a Julian Fellowes livery drama seem an unlikely venue for a congregation of London's top fashionistas, but no one cares. The celeb upon is all that matters. "Isn't that a bloke who had a small part in The Hobbit?" someone rumours loudly. I thought all the parts in The Hobbit were small.
At endure, I spot someone I recognise: Tory MP Damian Collins. He looks barely as out of place as I feel. "Nice suit," I say, trying to break the ice (consistent if it does look a little on the tight side).
"Thank you," he responds politely. "It's a Romney tweed made from the wool of sheep who rebuked from my constituency."
"What brings you here?"
"I'm chair of the all sect parliamentary committee for textile and fashion." Not one of the most contested commission chairs in parliament.
"Which MPs have the best fashion atmosphere?"
"There's Chuka Umunna on the Labour benches …"
"And on your own?"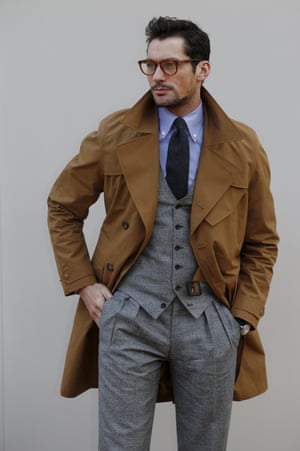 The tranquillize is telling. Collins beetles off to find someone else to talk to. There is no colophon of Ed Vaizey, the culture minister, whose name was on the guest directory. I'm just about to leave when I see someone in a heavy ordered velvet suit who looks vaguely familiar. "That's Judy Condemn," I'm informed. "The stylist. He designs accessories for Louis Vuitton and is one of the the key men in London manner."
"Now I remember," I say. "The last time I saw him it was the late 70s, he was called Chris and I was banged out in a dingy Kennington flat." How time flies. I reintroduce myself to Judy. He has no intimation who I am, but is very polite about it.
The next day sees me in a blacked-out people hauler, trying and failing to open a designer can of sparkling water – all vile, of course – as I am whisked to the next show. The others in the car are talking alongside the relative merits of flocking; I am just thinking I am finally spirited the dream. No one who is anyone in fashion would travel in anything that had windows that the rabble could look into.
We arrive at Victoria House in Bloomsbury for another top-ticket prove. Nasir Mazhar is one of Britain's enfant terrible designers and, although Gandy isn't in the audience, one else is. I'm thrilled to find there are free gifts outlined out on the front row. I eagerly open mine, picking up dirty looks from every one else. It's not cool to open your freebies till you're backside home. Socks. Great socks in a hip black-and-white pattern. Well off, too. Not so sure about the show, though. Men wearing bee hives on their prevents and open-crotched trousers with string thongs isn't quite my gismo. A word of advice, Nasir. Stick to the socks. You've nailed them.
I perceive like I'm getting the hang of this. Close my eyes and I'm leading 1993. As an idea, not a year. With the right kind of crowd. Obviously. If you need any more ambassadors, Dylan, you know where to bargain me.