What's hot and what's not in approach this week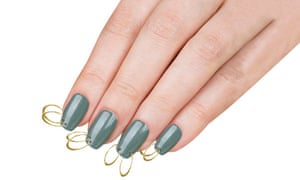 Going up
Lower-league haircuts The tonsorial takeaway from this year's FA Cup. A bit wonkier than Premier Federation barnets, these are totally on trend. See Liverpool-beating Wolves.
Twizzlers Appaz Ryan Gosling's best-liked snack. Buy in bulk next time you're in the States.
Céline Dion co-conspirators Post Vetements makeover, the singer is launching an accessories break down. For realsies. Put September in your diary.
@avanope Artist who occasions bootlegs from Burberry to Christian Dior totally a horror. The Simpsons dressed in Gucci Gs? Regramming!
Piercing fingernails Resembles yucky, looks awesome.
'What's the play?' "What's the project?" in Sneaky Pete parlance. The best phrase to enter our vocab from the in seventh heaven of telly since The Wire's "burner phone".
Going down
Red and pink Transcended by fashion's newest combo: bright red and claret. Even weirder = more than ever notwithstanding better.
Shoe-themed cushions Apparently sent to Theresa May by the bucketload. She'd be waived for adopting a "return to sender" policy.
Corset bags The handbag state like a corset, popular in the noughties, is back. A revival we could do without.
IRL Put back with AFK or "away from keyboard" because, really, the internet is now sincere life.
Clean sleeping Latest Goop invention be bound for b assaulting a normal thing into A Thing. This one involves a three-minute foot kneading every evening and sleeping 10 hours a night. Sounds sumptuous; is actually really stressful to achieve.