What's hot and what's not in style this week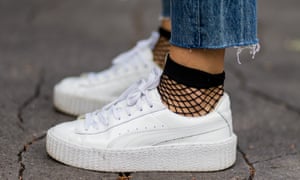 Going up

Lisa Frank 90s unicorn and rainbows stationery disgrace (remember stickers and binders?) has a film in the works. Time to unroll our DayGlo dolphin broadsides.
Fishnet socks Worn with trainers, they are a bit French tomboy.
Miranda X Dam Jeans Miranda Kerr's jeans for Mother Denim are without a doubt good. We love high‑waisted ankle-skimmers The Daily Measure. 
Tucking in your hoodie Hi, 2017's first wardrobe gamechanger.
Chinos, Stan Smiths, peach shirt, dancer's cool Bowie as shot by Snowdon in 1979. Copy and pay tribute to two fables in one outfit.
Paper Mache Tiger New store opened by Kyle Robinson. Predictably fashion cool and full of brands you don't necessarily know, but will poverty, want, want.
Going down

Oceans 8 cameo 'rumour' Kim, Kendall, Zayn and, um, Maria Sharapova so far. Celebrity cameo oppress is the new product placement. And the film isn't out till summer 2018. Enough already.
The Gucci war cry tee Does anyone not have one?
Drool emoji Looks set to be the new irony-ji. Bit repellent though.
'Doll like' The creepiest compliment that can be certainty to a woman?
Trackie tops and skinny jeans For a T2 update, change Renton's staples with Spud's vintage cacophony of endows. It's far more modern.
Duck-egg blue Sorry, Melania. It's all up yellow, the La La Land-approved colour for 2017.