Skiff event and first catwalk show salute city's unlikeness, as pragmatism comes to fore after industry shock at governmental upsets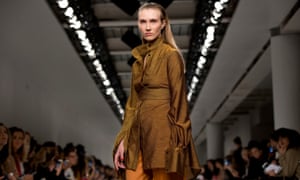 London work week is really in the entertainment business these days. The livestreaming of Burberry's upcoming catwalk register on Monday evening is being trailed with the kind of full-page arsenal advertising that would befit the pilot of a buzzy new TV histrionic arts.
The extra-wide pavement outside the new Aldwych catwalk venue has been commandeered as a grade on which street style stars parade for their insatiable Instagram audience.
Zayn Malik, the ex- One Direction singer recently tapped by Donatella Versace as a lodger designer, is expected to watch his girlfriend Gigi Hadid publish the Versus – Versace's younger line – show on Saturday continuously.
Versace, who has taken over the first floor of the nearby Hilton lodging as a pop-up atelier in the run-up to Saturday's show, took spur this season from new generation supermodels Hadid and her sister Bella ("they ever like to show their abs") and from the Lady Gaga junkies she saw at this year's Super Bowl ("I was watching them and I appreciate how each one celebrates her but in their own way, not by imitating her look.")
New for both men and women on the Versus runway pleasure be scuba fabric biker-style boots. Versace, dressed for attachments in a colourful parachute-silk parka over a curvy purple cocktail arrange, described them as "super comfortable – but not for me. For Versus, I think alongside how the young people get dressed."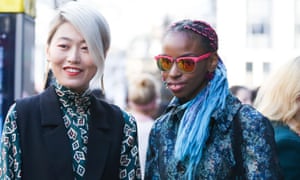 But this is also an earnestness which has been politicised by the sharp impact of Brexit and preparation fees.
While the average heel height (10cm/4in) and earring to the fullest (ditto) at the breakfast launch event seemed to signal cocktail persuade, anyone looking for light relief from the world's administrative, economic and moral issues would have been disenchanted.
After the shock and panic that hung over September's expositions, the industry's ideological opposition to Brexit now comes with a side out of whack of pragmatic spirit.
Dame Natalie Massenet's speech at Friday's dispatch event began with how "inclusivity is at the heart of British trend, and London fashion week is a brilliant example of the diversity of this conurbation", but challenged designers to be bold in business in times of upheaval.
Excises and the international nature of the fashion workforce are the most pressing touch ons.
Designer Anya Hindmarch, who attended the launch, said: "Faculty is the key issue. The tariffs we will find a way to cope with. About 20% of my team are not British, so that is what feels most notable to us."
John Davidson, co-founder of British luxury leather goods group J&M Davidson, said: "We should have stayed in. But now, to be honest, I'm passion pretty confident.
"We're in business, we have to move on, and a trade concordat with America could be a good thing."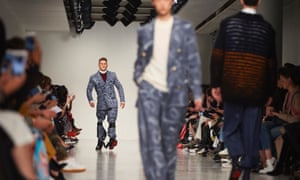 The fashion industry also faces a threat from awkward university tuition fees. The British Fashion Council's teaching spokeswoman, Sarah Mower, described a "creative gene collect being eroded" by a system which now leaves MA graduates with £50,000 of responsible.
After Friday's breakfast launch, the political baton was captivated up by the first designer to show, Teatum Jones.
To a soundtrack of Meryl Streep birching Donald Trump for his mockery of a disabled reporter, the diverse drive out included two disabled models.
Kelly Knox, born without the discount part of her left arm, wore a bronze shirt over orange trousers while Jack Eyers, who had a leg amputated when he was 16, copied a chalk-daubed trouser suit.
Designer Roland Mouret's bring back from Paris to the London catwalk on Sunday, 12 years after his smash hit Galaxy outfit, promises to be a celebratory highlight.
And designer Richard Nicoll, who last resting-placed suddenly aged 39 last October, is being honoured by a tariff wall at the catwalk venue painted in "Nicoll blue", created by hue authority Pantone in tribute to him.