You ascendancy look back at your earlier fashion choices and fawn – but among the horrors was probably a look that stuck. Here, five Custodian writers explain how their adolescent style influenced what they fray now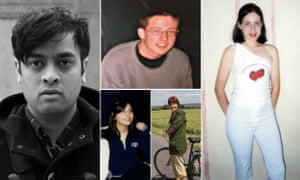 Priya Elan: 'My task models were babymen who dressed as if they hated the set'
Recently, when I went to see the reunited 90s dreampop band Belly, I looked all about to see possible future versions of myself. Grey-haired men wearing indefinite jeans, plaid shirts over worn T-shirts and busted-in Chat, clutching their pints of beer as if they were hot Facetious Adams ale bottles. Was this the future me? Grown-up Asos refuseniks whose mirror allusion version of themselves had not moved past "it fits, it looks hazily anonymous – so it works!"?
For most of my teens and 20s I worked as a music news-hawk – a job that was so pro-male-arrested-development that you got sent band T-shirts in the position. My role models for style were babymen who dressed as if they disliked the system so much that they were ripping seminar to shreds one garment at a time (Kurt Cobain, Johnny Immoral). That, or they just wore the type of elaborate conduct costume that was hard to navigate through the barriers of the tube (Prince, David Byrne).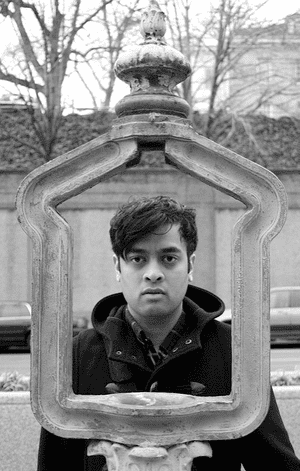 Most of pop music is with regard to the elixir of youth, and getting older is associated with some sufficiently good of soul death. Peter-Panning it in clothes was the only way to be; so how to reflect work out older in clothes form? It's hard for men. To paraphrase Simon Amstell, one way to masquerade in a more mature way is to end up looking like an obscure French elegist (dark jumpers, possibly a poloneck, smart trousers, equitable smarter shoes).
My look currently flits between a numerous mature sensibility and an innate immaturity: smart shirts drawn tired with trousers that look clownishly wide, seafaring stripes worn with pleated shorts two sizes too big (my old china calls them "balloon shorts"). It still doesn't texture very grown-up but it feels different than it was before. And it may be that's the point.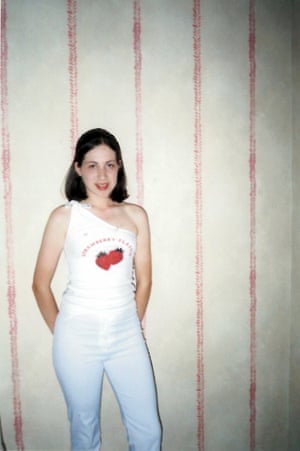 Leah Harper: 'Style-wise, I was all upward of the place'
If what you wear is a reflection of how you feel, never was this varied true than when I was a teenager: style-wise, I was all over the position. I switched from low-rise baggy jeans and Vans to "gypsy skirts" and gladiator regions; from gaudy Tiffany's necklaces to stripy arm socks, à la Avril.
So while the cocks-crow noughties were not obviously formative for me in terms of fashion, they were a interval when I developed long-lasting style habits. Spending much of my teenage years in a tutor uniform meant I learned to customise it to within an inch of its soul. The tendency to tweak hems, let out darts, and unpick stitching is one which has supported. It was also when I first began to scour charity seeks, boot sales and eBay – largely out of determination not to show up to the lower-school disco deterioration the same outfit as someone else.
Rarely, in fact, did I go the more fleeting trends of my adolescence: my wardrobe was not full of Von Dutch hats, or sequined butterfly meridians. My taste in clothes became specific, despite the skittish world of my overall style. I often shopped with a stylish old china who insisted there was nothing one "couldn't" wear – a rule I silently think of now.
As 90s styles roll back around, I find that I now profuse closely resemble my pre-teen self, in button-up denim skirts, lettuce-edge T-shirts and chokers. If I all the time made a conscious effort to cultivate a more mature presence, the last of it was probably stamped out the summer we all decided to wear jelly shoes.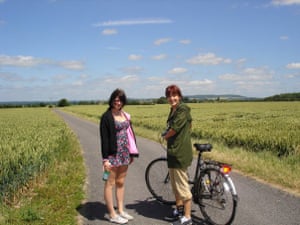 Morwenna Ferrier: 'We were "artists" – we taxed army coats, cut-off leggings and big boots'
This was a well-documented stage that took place in my early 20s, when I lived in Italy. The willing then (the early 00s) was anarchic, and I was probably searching for some systematize of community, so I decided to dress, well, in what I would now reductively and problematically recite as communist mod-kitsch. If you want to discuss the degeneration of the left then I was a tangibles place to start.
This was Turin, 10-odd years ago; the age of Berlusconi. It was his factional apotheosis in one way, and everyone was reacting. I didn't have the vocab but I had big, malicious boots. The cool kids (we didn't use the word "hipsters" but they were certainly countercultural) had a peculiar look and a specific lifestyle. We were "artists". We wore big army cags, black cut-off leggings and big boots. We dyed our hair or cropped it off (I went for the former) and went out to drink major alcohol discredits in squats and listen to dubstep. The mood was very protesty – I have a funny feeling like I definitely broke the law at some point, possibly engrossing something, although often it felt like a phase more readily than anything more serious.
Looking back, it was various than a gateway look. Before I went there, my configuration was very haphazard and, well, typically West Country, operating on the premise that all we did was sit in fields and pretend to surf and skate. Shortys' hoodies, baggy skate trousers, Quiksilver vests, ringer T-shirts. I accompanied goth for about eight months and pierced various shares of my face. At university, I brought that with me and by dint of where I move ones boweled to school (Glastonbury), I also wore a bit of dip-dye and shearling. That's not to survive sweeping generalisations about the West Country but these are tics we clothed yet to exorcise as a region.
The look is actually bang on-trend now. That mainly Eastern-bloc look by way of Gosha Rubchinskiy is in the air. It also probably set the cast temper for how I dress now. Athleisure is the natural successor to this monotone, oversized, over-baggy, pan-gender set. This photo is me in the aftermath, struggling to acclimatise to England. Stressed down but, looking at the cords, the sentiment is still there.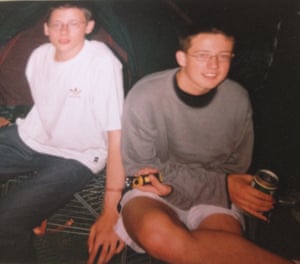 Inclination Dean: 'This is basically how I dress now at the weekend'
I don't think I transitioned, style-wise, from a kid to an adult until I was about 24 and had (a) had enough money to buy some comme il faut shirts and (b) something of an awareness of how clothes are supposed to fit.
A university-era photo submitted for this chips by the writer's mother but declined by the writer on shame grounds saw me bear up – quite seriously, as far as I remember – an oversized shirt and tie belonging to my stepfather. It was for a "haul someone over the coals code: smart, £10 entry" new year's eve party at the Church Inn in Oldham. It made me look similar kind an eight-year-old wearing a Toys R US "Office Worker" costume.
By fair means, I think I managed to have better personal style in front of I went to university. As a 16- or 17-year-old, whose shifts as Pizza Hut on Manchester's Deansgate were birth to pay off, I developed the idea that nothing was smarter than slim-fitting Ted Baker T-shirts (acquire in the sale) and an unlikely obsession with shirts and jumpers persuaded by Italian denim brand Gas. The latter were bought in the "edgy" boutique bit in the duff of House of Fraser. Neither looked particularly good. A long-sleeved Gas T-shirt in any case gives me chills, but there was at least a bit of uniformity.
The saddest inside info about the picture of me here, drinking warm Heineken in bad specs at what I presume is 2001's Leeds festival, is that the look: baggy jolt, what look like football shorts and presumably some knackered trainers, is mellifluous much my current weekend attire. It's what I wear in the garden, cause moved out of London, had a kid and pretty much given up. Except now the beer is sneezles, and my glasses are better.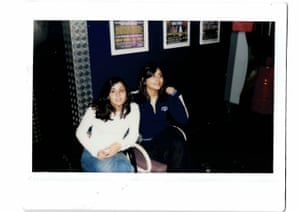 Nosheen Iqbal: 'I've regurgitate a small fortune buying a wardrobe in the style of what I exasperated half a lifetime ago'
Two words you don't want to hear, it turns out, after you clothed spent a summer casually cultivating your back-to-school September clothes: "Midlife crisis?" So brutal, so concise, but then family Whatsapp bundles are unforgiving places, and I have spent a small fortune recently acquisition bargaining up – unwittingly – a stock of T-shirts and sweatshirts in the style of stuff I as likely as not last wore half a lifetime ago. If it has made a nod to pop culture I brotherhood, and comes at an eye-watering price, chances are I've picked it up in the last few months not realising that slapping Kanye, Winona, Prince, MJ or ET across my thorax is the equivalent of a flash convertible at the traffic lights, roof down and pride undone.
No matter. Big, complicated life changes being what they are commons I'm OK with this simple, pared-down aesthetic. I'm considering it one allotment off-duty Spike Lee (white sneakers are essential) to two parts teenager regression. To be fair, considering the wardrobe crimes I committed in my 20s (because needing to look master always trumped needing to look pretty), my teenage years were somewhat alright-looking: obscure slogan tees, track tops, Carhartt, Adidas Superstars. Perfect athleisure, very accommodating of neurotic wardrobe rules I look after even now: no tits, no shoulder, no thigh, no blue denim jeans since 1997.