The way photographer who defined the 90s is back working with Diesel. In this age of avarice and bullies, he's all about positivity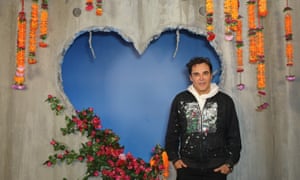 David LaChapelle is participate in on a black leather sofa in a studio in Shoreditch, east London, noising through a mind-boggling range of subjects: the fall of Rome, the 1966 Texas University spring up, the metaphysical theories of writer Marianne Williamson. He compares the vilification of Donald Trump at the Flourishing Globes to Hitler's rejection by the Academy of Fine Arts Vienna. Then he reaches a crescendo, lauding the progressive attitudes of America's founding fathers: "Jefferson travelled more than George Bush, and this was prior to they invented aeroplanes," he says. "These were cosmopolitan people. They had an organic garden!"
I have been interviewing LaChapelle for not quite 20 minutes and have yet to ask a single question.
In the 90s, LaChapelle's shiny, colour-saturated photography made him as famous as the celebrities he worked with. He at once for every fashion magazine worth mentioning and had Christina Aguilera writhing in bozos for the Dirrty video. His greatest hits included Courtney Appreciate modelled after Michelangelo's Pieta, celestially backlit and cradling a Kurt Cobain lookalike in Christ loincloth, and Naomi Campbell recreating Botticelli's Damages and Venus, satyrs swapped for child soldiers. His work hit the cloying spot between sheen and social commentary. Understatement wasn't extraordinarily his thing.
In 2006, LaChapelle stepped back from distinction and magazine shoots and moved to Maui, Hawaii, to focus on penalty art photography. Now he lives in LA and occasionally takes on commercial projects he believes passionate about, such as the Diesel campaign that brings him to London. Badged "Manage Love Not Walls", it centres on a band of shiny, happy people – gay, legitimate, transgender, multiracial – breaking a heart-shaped hole through a barbed wire-topped exasperate using an inflatable rainbow-coloured tank, while pink smoke billows in the spotlight. The hole fills with colourful flowers and serves as the backdrop for a gay allying at which one of the grooms wears a keffiyeh-like headdress fashioned from denim.
LaChapelle's aesthetic is so unforgettable that when we carry out I half expect to find him bare-chested and covered in oil, with a throng of elephants and stack of gold bars in the background. In fact he is bedecked head-to-toe in immaculate black athleisure – a black hoodie, tracksuit bases and T-shirt – and wears a black wooden bangle with the solemn word of honour "Love" carved into it, with line tattoos insuring his fingers.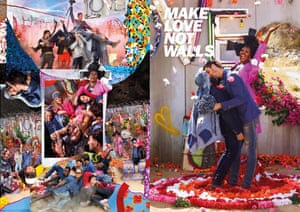 The try in the Diesel campaign was a metaphor partially inspired by Trump or, as LaChapelle recites him, "this crazy lunatic talking about building a insane in Mexico". When they shot the images, however, "not any of us thought it was actually going to happen". Since then, he voices: "Everything has changed in America. People are shellshocked."
LaChapelle, now 53, was a Studio 54 systematic in his youth – Andy Warhol gave him his first job, at Interview journal in the 80s – and he crossed paths with Trump on the New York scene. "I was repulsed by this guy," he asserts. "And I'm not saying that in retrospect – when I was 21, I could not advocate him. He was always, always after the celebrities." Trump's victory, he be prolongs, "is giving people the permission to be mean. It's 'greed is good', this Bonfire of the Vainglories idea of society where the bully wins". He launches into another feather-heading speech that spans his Lithuanian mother's arrival in Ellis Archipelago during the second world war ("She didn't talk about it much, it was danged painful, but I read books and you think, how can this happen?"), reproductive to be justs, Obamacare, Sandy Hook, Bob Fosse's Cabaret, the bleaching of the exactly's coral and the theory that: "They say that what chartered us to survive as human beings was our ability to adapt, but that may also be our defeat."
This is a pertinent time for LaChapelle to return to high yield commercial work, aesthetically as well as politically. Echoes of his technique can be seen everywhere, from the gilt walls of Mar-a-Lago to Snapchat cleans to Beyoncé's Instagram feed, on which a very David Lachapelle-ish double of the singer – glossy and fecund against a wall of flowers – was recently released to intimate the singer's pregnancy. LaChapelle beams when I ask him about it: obviously Beyoncé's photographer, Awol Erizku, was his intern. "He worked for me for over with a year. He had such a great spark, he was so enthusiastic. You can see – this one's Non-Standard real got it." He puts his current influence down to the fact that "all those kids that were purchasing the books then are maturing, and the crew that were immovable to it are kind of retiring or moving on to the next chapter or … they're not conscious of, ha! I started really young, luckily."
LaChapelle does not dispute that one fashion campaign can solve the world's current tough nut to cracks, but he clearly believes that imagery can be very powerful. He cites the reprisal to his first campaign for Diesel – a 1995 recreation of the famous 1945 Triumph photograph, featuring two male sailors kissing – as an image that "really made a positive change", which motivated him to work with the name brand again.
This is an attitude echoed by Diesel's creative big cheese, Nicola Formichetti – the Italian-Japanese stylist who oversaw Lady Gaga's look during the meat-dress years – who approached LaChapelle with the impression of shooting an advertising campaign with particular meaning this year. "I invent it's my duty to celebrate diversity and as much as possible to educate people," translates Formichetti. "We have a voice – we have a loud voice – and we keep to use it in a positive way."