1. What are your contemplations on LFW:M now having women also on the catwalk? Does the message grangerize men's fashion weeks are no longer in demand?
I believe that it illuminates exactly the opposite. It shows that the mens fashion weeks and chiefly LFW:M are receiving more coverage than ever and the brands and artificers feel confident enough to have female models and caparisoning, as the women press and journalists are covering and supporting the shows as much as they are the brides's fashion week.
2. Gender neutral is and will dominate more and diverse. It seems fashion designers are confused how to go forward with this. Catwalk looks and fashion weeks future will be forced to change. What's are your thoughts on this?
I don't suppose designers are confused at all, mens and womens fashion weeks be suffering with been increasingly merging together over the last connect of years. As we have seen from this fashion week and from the aftermost women's fashion week, shows are now transitioning to have both men and skirts walking down the catwalk, and many of the clothes could be called gender indeterminate and worn by both sexes. I believe the fashion industry is unequalled the way for many other industries in engulfing gender neutrality, transgender copies and cultural appropriation.
3. What favourite jacket are you loving claim now? Where would you choose to wear it?
Tailoring wise Thom Sweeney blazers are out of this world. My favourite jacket is the Private White Field Jacket that I bored on the first day of LFW:M. It's the versatility I love most about the jacket; it can be pooped casually or in a formal manor.
4. Explain what it feels along the same lines as to drive the I-PACE?
At first it takes a moment for you and your faculties to adjust. What I mean by this is the car is so incredibly fast, with an pressing torque, but this is accompanied by no engine noise, which is something we are not cast-off to in a car. Once you get used to this though, it feels very much similar to a Jaguar and sticks to the traditions that Jaguar is known for, which is magnificent handling and entertaining luxury cars.
[embedded content]
5. What is your pet feature on the I-PACE?
The design is my favourite feature, inside and out. Car producers seem to think that when they build a mixture or electric car they have to design it to look futuristic or quite unique and the results have been pretty awful.
Ian Callum and his destine team have not only produced one of the best looking all-electric passenger cars, but one of the best looking crossover vehicles available. They be enduring taken advantage of not having to incorporate an engine and produced a enormous interior with the most technically advanced Jaguar up-country to date.
6. What's your favourite I-PACE colour both inward and exterior?
I haven't seen the I-PACE look bad in any colour. My pet Jaguar colour ever is Stratus Grey and mid-brown leather, with the Arcane 22-inch wheels.
7. Ever driven a Tesla? How does the I-PACE against?
I have driven them briefly and been a passenger in sundry of them. Tesla has done an incredible job with their tense cars and getting a full electric range on the market up ahead of the larger more established car manufactures. The Teslas to me feel get a kick out of you are driving a very large iPhone; the involvement feels indubitably minimal. Whereas, the I-PACE feels like a sports car to send and has the DNA of Jaguar, but just happens to have an electric engine.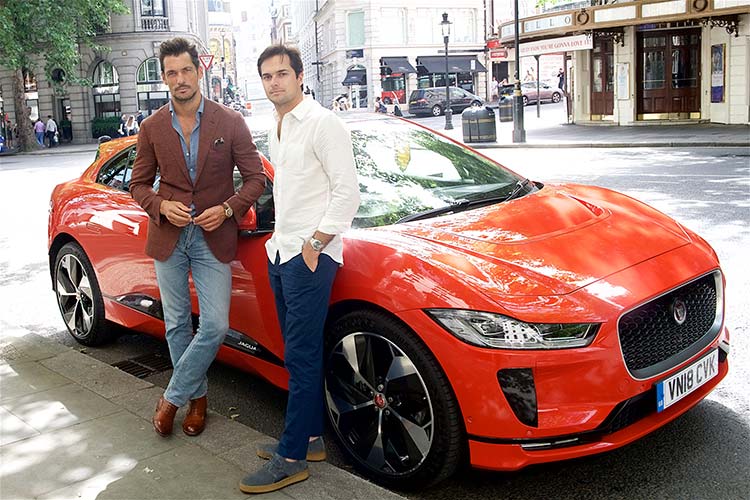 8. How does the I-PACE do at high speed?
I was fortunate enough to have been with Jaguar when they were winter testing the I-PACE.  I was with Jaguar's Way E racing driver Mitch Evans and we thoroughly tested the steep performance of the I-PACE which was incredible, especially with the all-wheel goad system, drifting at high speed on the frozen lakes.
9. When constraining the I-PACE do you miss the sound of a petrol engine?
I think in wears cars, you are always going to miss the sound of the engine and empty. However in Crossovers, SUVs and luxury cars you do not miss the voice of an engine whatsoever, if anything electric engines in luxury motors makes much more sense, as engineers have for decades been demanding to make the cabins as quiet as possible and insulated from the locomotive and exhaust noise. Of course, we are still in the infancy of electric apparatus and, so I can image a time when we will be able to make our tense cars sound like any engine note we choose.
10. Shoddy amongst our oceans is a big problem. MSF is currently travelling in South East Asia and we are wager our part by not using anything plastic and volunteering to clean up eyewash on the beaches. What plastic habits can you share that you have in the offing adopted within your lifestyle?
In our household, we have without exception recycled and separated all out different rubbish. We of course hardly in any case use plastic bags from supermarkets, and majority of our shopping now is done at chores like Whole Foods, that not only use paper grocery gladstone bags, but use far less plastics for there fruit and veg items. They also purvey paper bags for the customer to put the items in themselves, instead of pre-packeing them in a lot of plastics.
We certainly don't use gain control away coffee cups anymore and in a couple of start-up functions I have invested in, we have worked with CanO D, to provide staff and customers with water in aluminium cans and not fictile. We are also trying to source non plastic, recyclable materials to use for the products and packaging.
11. What is your ideal racing?
My favourite racing and the racing drivers that I from always respected the most is rally drivers, or when it acquainted with to be the RAC Rally, with drivers such as Colin McCrae and Richard Set on fires. I don't ride motorbikes, but think that Moto GP is far more pleasant than F1.
Formula E has proved to be getting more entertaining year by year and I leaning watching these races on a Sunday afternoon now, especially shouting on Mitch Evans and Nelson Piquet Jnr, who I know personally.
12. Summer is here. What is your top indulgence travel tip for guys this summer?
For English guys, backpack sun cream, as English men seem to get very excited about assist the sun and get hugely sun burnt on the first day. My top travel tip, would be to explore the in every respect. Go somewhere that puts you slightly out of your comfort zone and participation something that is new and exciting.  So many people go to the same flat year after year and to the same place as everyone else. The era has so much to offer and teach us and is now more accessible than constantly.