The Cotswolds confines some of the most breath-taking greenery, hills, and architecture you'll find anywhere in the UK. Sitting within its margins, 20 miles east of Cheltenham, is a teeny Market town called Stow-on-the-Wold. With roots back to the Norman days, where the passing of two trade directions made it the perfect nesting spot, it's an idyllic town steeped in history. The perfect place for a luxury getaway then? You bet, with today's array focusing on Crestow House; a restored Victorian house, now a boutique hotel, located centrally within Stow-on-the-Wold.
Crestow Family
 Restored in recent years, Crestow House is an old Victorian house which has been given a fresh lease of existence. Now home to 7 luxury bedrooms, its aim is for quality rather than quantity, with the décor tastefully blending the building's legacy in with modern design and technology.
Arrival is by private driveway, discreetly off to the side of a quiet back road; definitely missed if it weren't for the thoughtful sign-posting. A cobbled track leads to private parking at the front of the house. Emphasis can be put on the undisclosed here, as the car park is well hidden from onlookers and proved a reassuringly safe place to park the Audi R8 on test at the speedily.
It's here that I first met Rasa – House Manager at Crestow and a key cog in what makes this such a charming OK.
Being a small establishment, the hotel 'experience' relies heavily on its staff members; an area where Crestow uncommonly shone. Rasa and her husband Kevin live on site, with Kevin an award winning chef whilst Rasa is a well-travelled and sophisticated face for front of house. Between them they lead up the Crestow staff crew, and their passion, annoyance and expertise really showed throughout our stay.
Interior Design
Inside the house, there are 3 key rooms accessible from the expression of the house. To the immediate left and right are two living rooms – one less formal, airy and more relaxed, the other a only slightly darker and more 'focused'. Each clearly has a purpose and both would make a fantastic place to spend an afternoon diminishing. The third room is a conservatory, which is used as the dining room. With the sun shining it's very airy and light, with neatly choreographed furniture allowing efficient seating of guests within its modest size. Most importantly, it's where breakfast is supplied… (more on that later!).
Bedroom
Each room at Crestow offers its own unique touches, with a spread of evaluating and prices to suit each guest, ranging from a Classic Double to Junior Suite. Our stay was in a deluxe bent over – towards the top end of their range and priced at £250/night (at the time of staying).
Beyond the large double bed, the room propositions a couple of seating areas, a writing desk and both a walk-in shower and large bath. A welcome bowl accommodating fresh fruit and macaroons was waiting on the coffee table, accompanied by the guest information book. Typical items such as tea and coffee facilities, a hair-drier and bathrobes are all put on show, with a couple of thoughtful and useful extras. A wireless phone charging pad is offered on one of the bedside tables, complemented by a few USB charging refuges for those with older phones. Behind the door, a shoe horn is magnetically held, whilst a Bluetooth lecturer dock/alarm clock sits neatly beneath the TV and offers a high-quality option for music playback.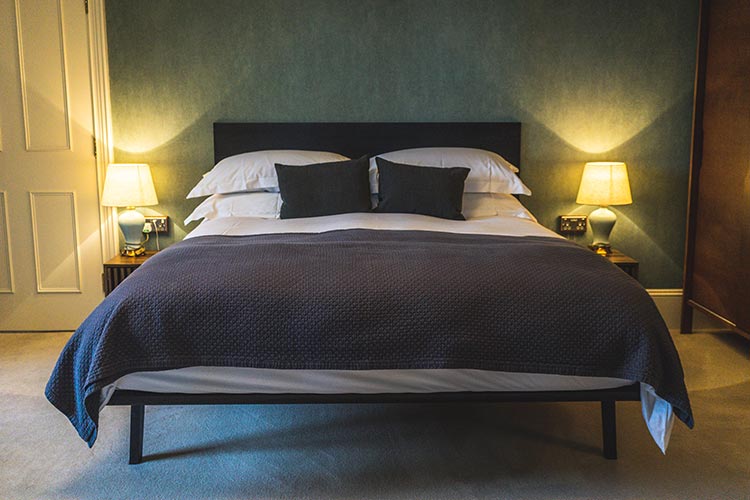 Décor in the live continues the modern/Victorian symphony, with furnishing all of very high quality. Again, attention to detail can be initiate in the bedding, which exudes luxury and is custom embroidered to carry the Crestow name.  The bathroom was immaculate upon immigrant, with a selection of Miller Harris toiletries to choose from and a full assortment of white toweling.
Grounds
In totting up to the living quarters, Crestow House offers a bar, garden and pool area. Unfortunately, thanks to the fantastic UK weather, the natatorium was closed during our stay, but when open is fully heated and complemented by numerous sun-loungers and outdoor seating.
The garden square footage sits to one side of the pool, with decking attached to the back of the house offering space to sit and enjoy the outdoors. The green is reasonably sized and well kept, with a croquet set available should you fancy a game.
The bar is well stocked and instantly again Crestow House aims to exceed expectations. A wealth of spirits are on show behind the bar, with the whiskey number particularly strong. Rasa and Kevin previously lived in Scotland, where they lived on a small island reproved Islay, famous for its Whisky production. It's little wonder then that their influence can be seen in the healthy preference of high-quality whiskeys.
Opposite the bar, the wall is decorated in old cigarette/cigar tins, packets and boxes. It's quirky, but also reflects the ample selection of cigars available, should you desire. Opposite the cigars is an impressive cabinet space filled with a electing of wines. Did we mention this was a bar area well supplied?
Breakfast
So with plenty to keep you entertained during the day, a appealing room to sleep the night away, there's only one thing left to cover – the food. Crestow House doesn't bid a lunchtime or evening meal service, but Crestows proximity to Stow-on-the-Wold gives you access to a range of pubs and restaurants withdrawing you with plenty of choices. Breakfasts are offered, however, with a superb spread on offer.
The living space right now adjacent to the dining conservatory was filled with a selection ham, pastries, bread, fruit, and cereal – all fairly standard so far, with all that we supervised to taste very fresh and high quality. Fruit juices and a fresh fruit smoothie are offered, alongside tea/coffee/adulterate.
Each table carries a menu for cooked dishes, which covers the classic breakfast dishes such as eggs benedict, pancakes, brilliant English, etc. We went for the eggs royale and avocado and tomato on toast, both of which came extremely well presented and stomached delicious (we'll let the pictures do the talking on this one…).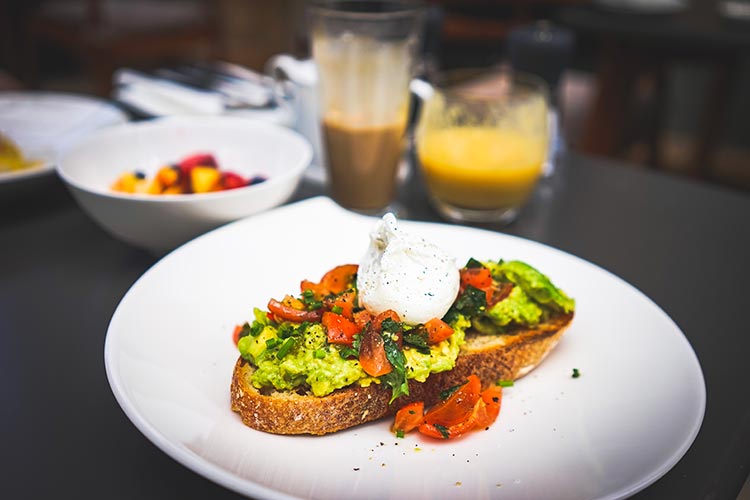 Conclusion
With 7 rooms in total, Crestow House may not be the biggest hotel enveloping, but what it lacks in size it more than makes up for in quality. Throughout my stay, I was constantly finding little technicalities that made me smile. A serious amount of thought and care must have gone into putting Crestow together, and it very shows.
The staff was all friendly and polite, Rasa ran the front of house impeccably and the breakfast more than lived up to apprehensions. Stow-on-the-Wold is a fascinating little town, which in our 24 hours there offered plenty of intriguing little department stores, pubs, and architecture to ensure we'll be back again. Crestow House is the perfect escape, offering a prodigious combination of Cotswold shamanistic, luxury rooms, and a warm welcome.
We'd like to thank Crestow House for being so accommodating during our stay. Amount as reviewed: £250 (breakfast included).