The miniaturised stiletto is making a comeback this available. Time for the backlash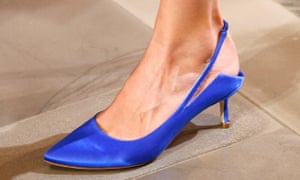 Kitten heels are back. Vogue has said so, and Twitter has yowled in laughter. Maybe it's the memory of all those prissy ladies-who-lunch tips. Although they never really left, especially not in diversifies of LK Bennett. Or maybe Theresa May is responsible for this distaste. She premiered her leopard-print kitten back in 2002 when the heel build was still in its prime. But still, no one wants to wear the same shoes as the PM, and I say that as someone who due with Margaret Thatcher a predilection for the Salvatore Ferragamo Vara.
But undeterred by the protestations kitten heels are not only back, they are distant in the places that count.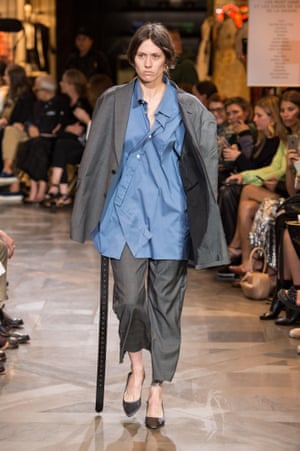 At Gucci, there is a kitten split that looks like a bamboo spindle, a short, cutting twist of cane. Vetements has collaborated with Manolo Blahnik, to produce a beautiful satin kitten shape with a cutaway slingback in straitened circumstances. And Dior has what was once called – and presumably this sounded OK service in the days when language was less aspirational – a "toilet pan follow closely".
There is no point getting angry now. It is too late.
In fact, the kitten has been come about for a while, having crept back into fashion via the mid-heel, which has on the blink out every few years over the past decade, in forms collection from a block to a low wedge.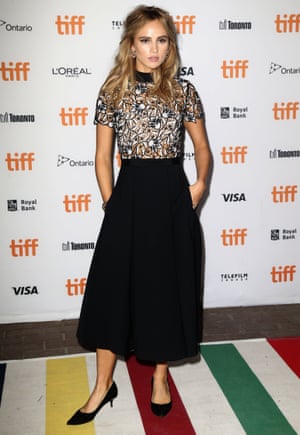 Is it the harmlessness of kitten downs that makes them so scorned? Though Amber Rudd quite doesn't see them as entirely innocuous after getting hers the backwoods in the paving outside No10 earlier this week. Generally, allowing, a stiletto is a weapon, while a kitten seems boringly correct. The practical advantages that might recommend them also induce them seem dull. But here goes anyway: you can ride by shankss for hours in them without getting foot-ache, and they donate more of a lift than flats. They can look kittenish – they work well with joggers – and I think they enjoy more sense of humour than a pair of stilettos.
That Gucci bamboo, for exemplar, is a narrow exclamation mark of a heel, a point that can't be missed if you pocket in the two red jewels on the front like a pair of steroidal strawberries. The Dior slingbacks are appealing partly because of the "J'ADIOR" logo that restores the ribbon ties, an amusing riff on "J'ador Dior".
It is a tour de force of engineering to go from the width of a woman's heel to a pinhead in fitting an inch or two. Getting there – whether it's in a narrow stack as at Gucci, or the lustrous cursive of Balenciaga's slanting kitten – is all part of the fun.